Hundreds of High School Students Join in Virtual Choir Festival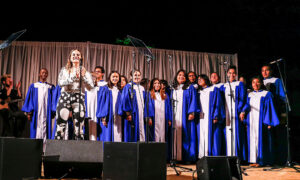 The Los Angeles Master Chorale's annual High School Choir Festival (HSCF)—made up of hundreds of students in Los Angeles County—is set to perform for choir aficionados and music lovers alike.
The virtual festival day video, which premieres April 23 at 10 a.m., will include pre-recorded highlights from past events.
"There is great power and joy in the communal act of singing, even in a virtual world," Grant Gershon, the festival's conductor, said in a statement.
"Adapting the High School Choir Festival for remote learning has provided a much needed sense of belonging for high school students throughout the Los Angeles region while providing access to continued education in the arts, which has been proven to have a transformative impact, including contributing to one's overall wellbeing."
Comprised of 26 partner schools and hundreds of high school students, the choir festival is one of the longest-running arts education programs in Southern California.
This year's event will include renditions of Happy by Pharrell Williams, Resilience by Abbie Betinis, and Es Tu Tiempo by Francisco Núñez.
Celebrating its 32nd year, HSCF is traditionally held at Walt Disney Concert Hall, and is the summit of students' year-long experience in their school's choir programs.
HSCF has been redesigned to adhere to distance learning protocols, utilizing online webinars, master classes, and interactive Zoom sessions.
This year's event will be HSCF's second time going virtual, since last June's show was likewise impacted by the CCP (Chinese Communist Party) virus pandemic.
The video can be viewed online.