Illegal Immigration Wasn't a Problem, Was 'Fixed' Under Father's Administration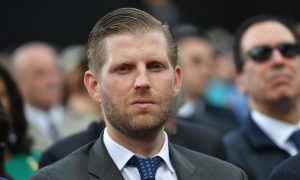 Former President Donald Trump's son Eric Trump said that illegal immigration wasn't a problem under his father's administration because he dealt with the issue directly.
"My father had fixed this problem. Illegal immigration was not a problem anymore," Eric Trump told Fox News on Sunday. "That's the most humane form of immigration where you don't have people making this dangerous trek, and it literally shows you what bad policy can do to the country that in 90 days, in less than 90 days, a system that was working and was perfect and that was fixed turned to absolute junk."
It came after President Joe Biden and other top White House officials have repeatedly blamed the previous administration's policies for creating the crisis along the border, while arguing that officials are now trying to create a more humanitarian approach. Biden also stated that the surge in illegal immigrants—largely from Central America—crossing the border isn't because he is a "nice guy."
Senate Majority Leader Chuck Schumer (D-N.Y.) earlier this month said he would continue to push immigration laws through Congress.
Republicans, including the former president, said it was Biden's actions—particularly a series of executive orders by Biden in his first days that reversed several Trump-era immigration policies—that has caused the surge.
Publicly available Border Patrol data shows that agents encountered at least 100,000 individuals who tried to illegally cross the U.S.-Mexico border in February, including about 10,000 children who are without their parents. About 60 percent of families encountered at the border were not sent back to Mexico, data shows.
Trump himself, meanwhile, has weighed in on the issue recently, including telling Fox News Saturday that he would consider going to the border himself.
"I'd love not to be involved. Somebody else is supposed to be doing it," the former commander-in-chief remarked.
And on Sunday, White House press secretary Jen Psaki declined to provide a specific date for when the media will get access to Border Patrol facilities temporarily holding thousands but said the Biden administration was committed to transparency and "we're working to get that done as soon as we can."
White House communications director Kate Bedingfield told The Associated Press that the surge was routine and cyclical.
"They're not the result of one administration's policies or another administration's policies. They're the result of, for example, weather disasters in the region. They're the result of people fleeing poverty and violence," Bedingfield said. "So we saw spikes in 2014. We saw them in 2019 when the Trump administration had perhaps the cruelest imaginable policies in place, family separation to try to deter people from coming, and they still came."
The Department of Homeland Security has been contacted for comment.
AP contributed to this report.