Impact of Grocery Price Hikes Uneven Among Holiday Season Shoppers
November's 10.6 percent jump in food prices is having a mixed effect on people shopping for Christmas dinner and other holiday treats.
Betty, a shopper at Jeff's Marketplace in Lexington, Michigan, told The Epoch Times, "I'm cutting back this year. I'll go without certain things which I can't afford.
"Eggs are up the most. A bag of oranges I used to get for $3 is now $8."
Climate change and the war in Ukraine are the two things Betty believes are driving grocery prices up.
"Look at what the war has done to the wheat supply," she said.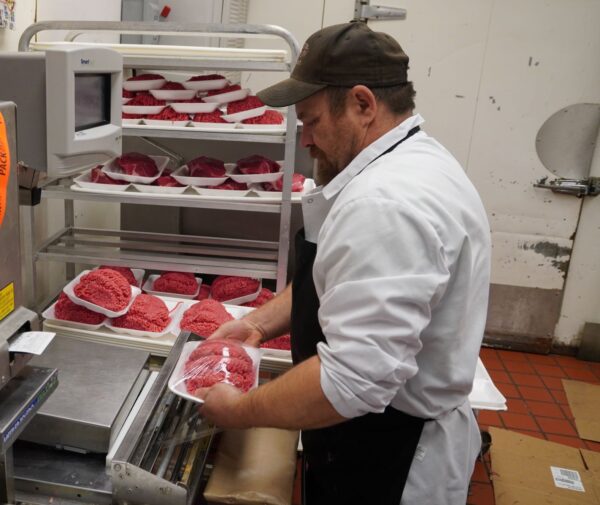 An elderly couple stated that they were not cutting back on anything this season.
"There's just the two of us. Higher prices are not really impacting our household budget," said the wife.
"The main things we see going up the most are staple groceries and milk," added her husband.
"I think the government, and problems with the general supply chain, are what's behind the increases.
"We like to grumble a lot, but we are actually doing fine."
A woman in the frozen food section told The Epoch Times she is making no cutbacks this year.
"My freezers are stocked, and my cupboards are full. I watch the ads and hit all the sales."
She said eggs have risen the most, along with some meats like bacon.
"The farmers are not getting what they deserve, yet prices in the stores are way up. I blame the middlemen and gas prices for this inflation," she said. "I don't know how some grocery stores survive."
'Hit From Every Direction'
Another female shopper said, "This year, I have had to cut out all the extras. Meats are the worst."
When asked what or whom she thought was responsible for food inflation, she replied "Biden."
One woman said, "We're getting hit from every direction. Frozen dinners, ice cream, everything! When I go food shopping, I feel like I'm being taken advantage of."
Though she has noticed some downward movement in the price of some food items, she said, "I resent it when the companies cut the sizes and weights of their packages. That's no bargain."
She said she holds the stores responsible for the continuing rise in prices, adding, "When you look at something that's $7 in the grocery store, I have found I can get the same thing for less at a fast-food place."
Food Items on Shelves
The U.S. Bureau of Labor Statistics separates food costs into two categories—food purchased for home preparation and food served at restaurants.
In November, the inflation rate of home-prepared food was 12 percent, while restaurant-prepared food went up 8.5 percent, according to the BLS.
Just one of the shoppers interviewed said she had any problem finding what she wanted on the shelves, but added she could buy everything on her list "most of the time."
Only one shopper gave her first-name name, and none consented to be photographed for this article.
Meat department manager Jed Matthews was not shy about sharing his views on the record.
"We still have freedom of speech in this country," he declared, "until they take that away from us."
More Hamburger on Table
Matthews believes higher wages "necessitated by the government," and high fuel costs are responsible for rising inflation.
"I feel bad about selling meat at today's prices. But it's nothing like produce. Cauliflower is up to $10 a head," he said.
Matthews, a 22-year employee at Jeff's Marketplace, said that this season's holiday spending isn't much different than in other years.
"Maybe it's a little slower. I do see my customers buying more hamburger."
According to Matthews, meat prices have been pretty stable for the past six months, with the exception of bacon. The price of some meats has even come down a little, he said.
"General groceries have gone up much faster than meat lately.
"Every time a delivery truck pulls in, we have to raise the price on just about everything.
"I can't get going too much about this stuff. It drives me crazy," he said.
On the bright side, Matthews stated, "Our supply chain is good. We've got lots of turkeys, ducks, hams, and kielbasa—everything for the holidays."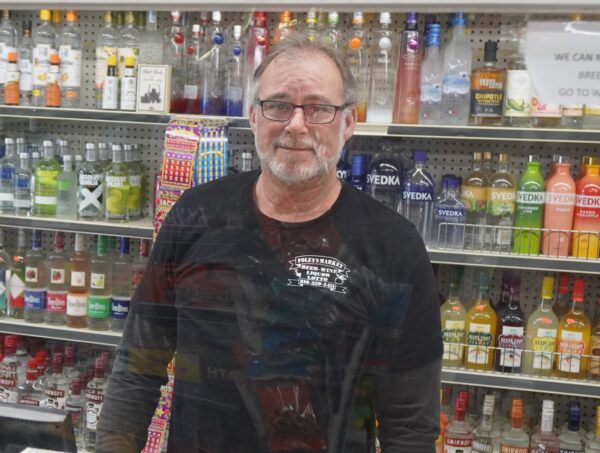 Down the street from Jeff's Marketplace is Foley's Market, a family-owned, independent retailer of beer, wine, liquor, and groceries established in 1858.
Foley's clerk, Kurt van Conant, told The Epoch Times that his store has experienced some supply chain "hiccups,' but it is receiving most everything it orders.
"One exception that stands out is high-end bourbons. They've been hard to get.
"Most of our customers squawk about the high price of everything, but they understand that rising shipping costs are what's pushing prices up.
"People are bellyaching, but they are still paying it," he said.
Different Town, Different Store, Different Story
Four miles west of the lakeside resort and retirement Mecca of Lexington, is the city of Croswell.
J & D Market is one of several grocery stores serving this farming community of about 2,300 people.
Located on a busy state highway, J & D market is a grocery store with its own gas station and a national submarine sandwich franchise on site.
Store manager Paula Murray told The Epoch Times, "It's hard to operate. Prices change with every delivery. It's a full-time job just checking prices.
"Many items are in short supply. Every delivery we get a whole page of out-of-stocks.
Labor Shortage a Factor
"Cooking oil went up from $11 a gallon to $15. A head of lettuce jumped from $1.49 to $4.99. And it's poor quality."
Murray said she doesn't know who is responsible, but she believes having to pay people more because of Michigan's labor shortage is a factor.
"No matter how nice we are to our workers, they leave. It's not a matter of wages, people today are lazy and just don't want to work."
Murray's husband has worked on a nearby farm for 34 years. Two months ago, his employer sold off the operation's dairy herd and is now just raising much less labor-intensive beef cattle.
"It's crazy out there. Our family budget is feeling a pinch from all this. Our eating habits have had to change," she said.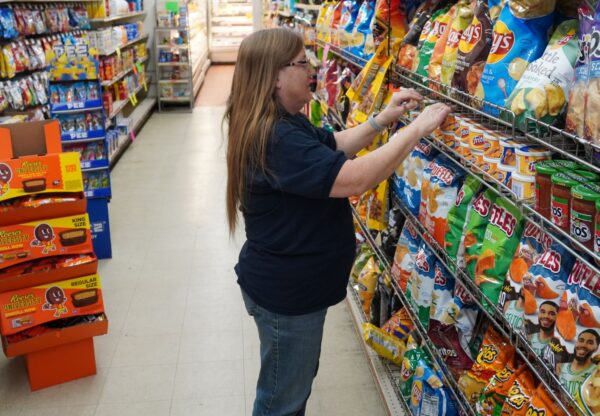 Identifying himself only as "a single guy," one customer bemoaned high food and gas prices and the state of the economy, telling The Epoch Times, "This is a ridiculous world we're living in. I go day by day. The price of everything is up, as my 401K is going down.
"But this situation is affecting others more than me. It's really hard on families. It takes two people working to barely get by.
"Some of it is the fault of our president," he said.
Tina, a farmer's wife and the mother of two teenagers said she is "absolutely cutting back" on food purchases for Christmas dinner and other holiday treats.
"Paying our bills comes first. To do that, we're cutting out any extras and cutting down on meal sizes. Snacks are out of sight. I could go on and on."
Tina's family raises cattle, along with a couple of horses, and some dogs. Livestock feed and pet food are a big expense.
"We all have to work in order to keep our livestock and pets," she said. "Our animals are important to us. We think of them as a family bond."
Bagged Items Going Up
Both her kids work part-time, and she works at a grain elevator.
"At my work, commodities are about the same price as they were this spring, but everything in bags is going up, mostly because of the cost of diesel fuel," she said.
Tina is grateful that her family's freezer is full of beef.
"At the grocery store, the things I see up the most are meat, fruits and vegetables, eggs, dairy products—things like cream cheese—especially name brands.
"Prices are up more than the statistics say. It's one thing to read the stats but quite another to live it," she said.
Declining to give her full name or have her picture taken, Tina told The Epoch Times, "I feel bad for people who think things will change for the better, when they are probably going to get worse.
"As for Christmas, we'll make the best of it."