President Joe Biden's 2024 budget proposal assumes that government income will be 19.6 percent of the country's gross domestic product (GDP), a figure Sen. Mike Braun (R-Ind.) found hard to believe, saying the country has never generated more than 17.5 percent over 50 years and suggesting the administration was "being dishonest with the American public."
Shalanda D. Young, director of the White House Office of Management and Budget, brought up the income projection during testimony before the Senate Committee on the Budget on March 15.
Committee Chairman Sheldon Whitehouse (D-R.I.) had said the nation has operated on a balanced budget only when tax revenue was 19 to 20 percent of GDP.
He then asked Young for the president's revenue projection in the 2024 budget proposal.
"On average, the President's policies would bring in about 19.6 percent [in tax revenue] as a percentage of GDP. And that's right in line with where tax revenue was under President [Bill] Clinton," Young said, referring to the last administration that achieved a balanced budget.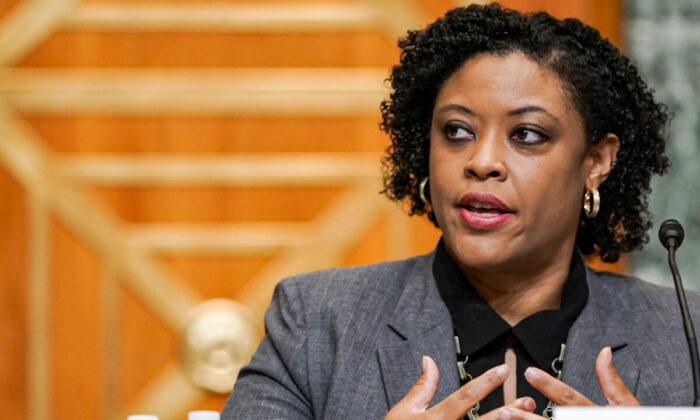 "You also saw economic growth. And frankly, the investments we make here today are about growing the economy. We want more people in the workforce," Young said, referencing funds budgeted to increase access to childcare.
Braun reacted with disbelief at the projected income percentage.
"Good luck with it because [the country has] never generated more than 17.5 percent in tax revenues as a percentage of our GDP over 50 years. Therefore, I think you're being dishonest with the American public," Baun said.
The senator traced the country's "migration into heavy debt" over the last two decades, citing statistics he called "astounding."
The national debt was about $5 trillion and grew, in part due to the wars in Iraq and Afghanistan, to $18 trillion by 2018. "We've now institutionalized trillion-dollar deficits annually," Braun said.
"In a little over four years, we've gone from $18 trillion to $31 trillion in debt. And then a "Blueprint for Success" in this country puts us $51 trillion in debt by 2033. I don't know how that can be sold to the American public as a sustainable, healthy business plan," Braun said.
Addressing Young, Braun said, "You're assuming all of a sudden we can raise 19 to 20 percent [of GDP] in revenues when historically, over 50 years, it's been 17.5 percent," Braun said.
"For a few years back in the Clinton administration, we did raise close to that. But you're assuming that we can do that going further."
Increasing taxation and spending above historic norms would be unwise, according to Braun.
"When [revenue as a percentage of GDP] is above historical levels, it always comes with the price of lower economic activity," he said, adding that government spending of 24 to 25 percent of GDP would be unsustainable.