Inside Big Tech's Manipulation Machine and How to Stop It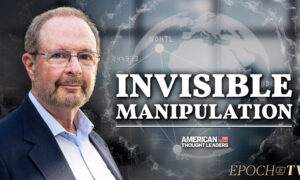 "They hold in their hands the power to change thinking and behavior on a massive scale, the power—in close elections anyway—to pick the winner, in country after country after country."
I sit down with Dr. Robert Epstein, a senior research psychologist at the American Institute for Behavioral Research and Technology (AIBRT). He studied at Harvard University under B. F. Skinner, previously was editor-in-chief of "Psychology Today," and founded the Cambridge Center for Behavioral Studies. Today, he is perhaps best known for leading studies looking at how tech giants influence human behavior, and conducting extensive monitoring projects of bias in Google products and beyond. According to his team's research, Google shifted at least 6 million votes in the 2020 elections.
"All these so-called free services, these services are not free. You pay for them with your freedom," he says.
In this episode, he breaks down his team's latest findings, detailed in his report "Google's Triple Threat," and major ways in which Big Tech companies secretly manipulate their users without leaving any paper trail. With Congress unable to come to any consensus on how to deal with Big Tech, he says he's found another way to force Big Tech to stop.
Below are some links Dr. Epstein mentions in the interview:
Dr. Robert Epstein's Privacy Tips
Report on Google's Triple Threat
Taming Big Tech: The Case for Monitoring
More information on Dr. Epstein's Google research
The American Institute for Behavioral Research and Technology
Subscribe to the American Thought Leaders newsletter so you never miss an episode.
Follow EpochTV on social media:
Facebook: https://www.facebook.com/EpochTVus
Twitter: https://twitter.com/EpochTVus
Rumble: https://rumble.com/c/EpochTV
Gettr: https://gettr.com/user/epochtv
Gab: https://gab.com/EpochTV
Telegram: https://t.me/EpochTV