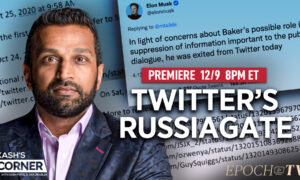 This episode will premiere on Friday, Dec. 9, at 8 p.m. ET.
Earlier this week, Elon Musk confirmed that Twitter deputy general counsel and former FBI general counsel James Baker had been "exited" from the company. He'd reportedly been "vetting" the first batch of internal Twitter files before their release to independent journalists Matt Taibbi and Bari Weiss.
While he was at the FBI, Baker played a key role in the Russia collusion probe, including the FISA warrant to surveil then-Trump 2016 presidential campaign aide Carter Page.
"James Baker was the one running blocking-and-tackle campaigns at the FBI to prevent the disclosure of documents we lawfully subpoenaed from Congress … Fast forward … he was running the same operation that he ran as FBI General Counsel inside of Twitter HQ," says Kash Patel.
It has also now been revealed that the FBI had regular meetings with Twitter (and other tech giants) in the lead-up to the 2020 elections. Were these authorized directly by then-Attorney General Bill Barr and FBI director Christopher Wray?
"I want to know every contract the FBI has with Twitter," says Patel. "I believe that they do have working-level engagement agreements with Twitter. And those need to be made public. Are taxpayer dollars funding part of this censorship scheme?"
Musk should release all the Twitter censorship files without redactions, Patel says, and he should also fire Perkins Coie, which was still representing Twitter as late as Dec. 6, according to court documents.
BUY the Jan 6 DVD: https://www.epochtv.shop/product-page/dvd-the-real-story-of-january-6, Promo Code "Kash" for 20% off.
* Click the "Save" button below the video to access it later on "My List."
Follow EpochTV on social media:
Twitter: https://twitter.com/EpochTVus
Rumble: https://rumble.com/c/EpochTV
Truth Social: https://truthsocial.com/@EpochTV
Gettr: https://gettr.com/user/epochtv
Facebook: https://www.facebook.com/EpochTVus
Gab: https://gab.com/EpochTV
Telegram: https://t.me/EpochTV