Jan. 6 Defendant Facing Two Years of Pretrial Detention Speaks Out
A man accused of committing crimes on Jan. 6, 2021, is speaking out about the prospect of being held in prison for two years before he goes on trial.
Jake Lang was arrested 10 days after the breach of the U.S. Capitol and has been held since.
His trial is not scheduled to start until 2023.
"There's no right to a speedy trial anymore in America," Lang told NTD's "Capitol Report" from the Alexandria Detention Center in Virginia, the latest prison in which he's being held.
"There's no right to religious services in prison, you can't your hair cut—the list goes on and on and on. They're using COVID as this blinder to just absolutely desecrate the Bill of Rights and we don't really have any rights in prison anymore."
In a memorandum supporting Lang's pretrial detention, prosecutors said there were no conditions that would ensure the safety of the community if he were allowed to post bond. They shared screenshots of videos that showed Lang assaulting law enforcement officers outside the Capitol.
Prosecutors said the evidence against Lang is "strong and compelling" and that he would be a flight risk if released.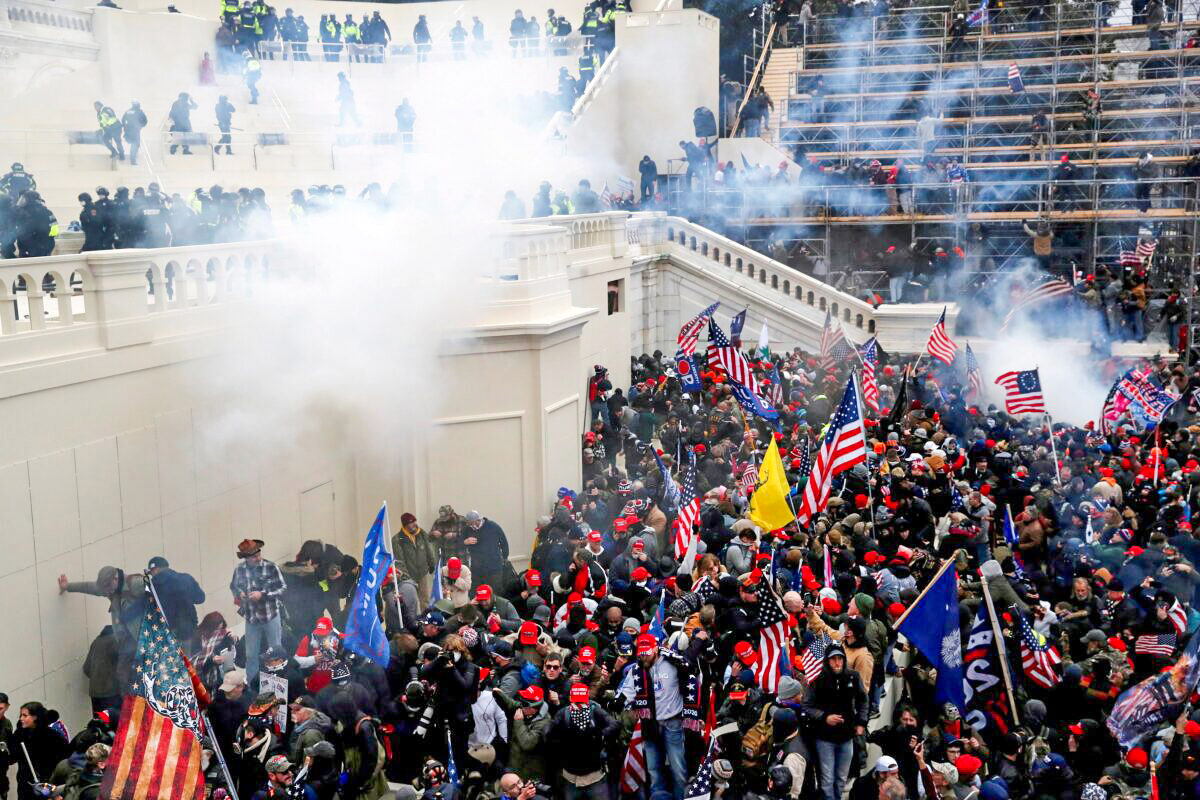 In a counter-filing, Lang's lawyers charged that Lang's treatment in the District of Columbia Jail violated his human rights. They also said the government failed to prove Lang is a flight risk, that he was unarmed on Jan. 6 and helped save the lives of multiple protesters, and that he could be let go with conditions assuring the community's safety.
U.S. District Judge Carl Nichols, a Trump appointee, ordered in September 2021 Lang to be kept in prison. A U.S. Court of Appeals panel in January upheld the decision, finding that Lang "has not demonstrated that the district court clearly erred in finding that no condition or combination of conditions of release would reasonably assure the safety of any other person and the community."
"I'm looking at two years until I go to trial. They won't even give me bond. They're giving mass murderers and all these robbers and all these people across the country bond," Lang told NTD. "But for Jan. 6 political prisoners, over 50 of us are still being held without bond."
While authorities say images captured on Jan. 6 show Lang "violently engaging" with officers as they tried to prevent rioters from entering the Capitol, Lang says police started the mayhem by unleashing pepper spray and assaulting protesters.
"We were just protesting peacefully," Lang said. "Then the cops started to reach over the barriers with their batons, whack people in the head … I personally witnessed them drag a woman up over the barrier, drag her back like 20, 30 feet, and then six cops surround her, kicking her in her head, and really riling up the crowd. I mean, if you're a grown man watching that, watching a woman being kicked on the ground by six other grown men, you're going to react a certain way."