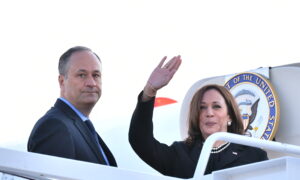 Jewish organizations have condemned Second Gentleman Doug Emhoff for comparing anger at school board meetings to hatred surrounding the Holocaust.
Recalling his recent visit to Europe, Emhoff told MSNBC host Symone Sanders that his experience meeting a Holocaust survivor—now a Ukrainian refugee in Germany following Russia's invasion of Ukraine—made him think of a parallel between the hatred in the United States, including at school board meetings, and the vitriol related to the Holocaust.
Sanders is a former senior adviser for Emhoff's wife Vice President Kamala Harris.
"I met one woman who was saved … [from] the Holocaust in Germany. [She] settled in Ukraine and is now a refugee again back in Berlin where she originally left as a Jew in the Holocaust," he said at the South by Southwest conference in Texas on March 15.
"These are the stories that are happening out there. And so this stuff is so important. This hate is interconnected.
"You see it in the discourse in the country right now. You see it in the divide that we have … [the] hate that is out there and we've got to step up and speak out," he continued.
"And we've got to call out the cowards. People, as my wife likes to say, the so-called leaders … because you can't be in leadership if you're not going to lead."
Nationwide, there have been parents confronting, mostly peacefully, school boards over the teaching of far-left curricula including critical race theory, and stocking what many see as "pornographic" books in their libraries.
In emailed statements to The Epoch Times, Jewish organizations blasted Emhoff for the comparison.
"I am a child of Holocaust survivors," said Zionist Organization of America president Morton Klein.
"How dare Emhoff absurdly and mindlessly compare Nazis demonizing Jews as causing every evil in the world and supporting the murder of Jews—to parents who promote Jewish values by opposing teaching young children about various sexual issues and urging children to think about what gender they may really be.
"Emhoff is a dangerous and silly fool who should not be taken seriously."
The Republican Jewish Coalition slammed Emhoff for the parallel and said this exemplified a bigger issue.
"Jews do not feel safe on the streets of Joe Biden's America, and rightfully so. Antisemitic hate crimes in the United States are at the highest on record—with a 20 percent increase from 2020 to 2021, according to the FBI," said the group's national political director, Sam Markstein.
"The Biden administration should stop making Holocaust-trivializing platitudes and take real substantive action to combat this rising threat."
However, the Democratic Majority for Israel, which seeks to elect pro-Israel Democrats, took issue with the backlash to Emhoff's comments.
"The Holocaust was a unique historical event and few understand that better Second Gentleman Doug Emhoff, who has been a hero in the fight against antisemitism," said the group's president Mark Mellman, a prominent Democrat pollster.
Mellman called the characterization of critics who say that Emhoff was comparing hatred at school board meetings to the Holocaust "totally false and inaccurate."
"In fact, he talks emotionally about his visit to Auschwitz and the vital lessons learned there, then separately about the need to combat all hatred," Mellman continued.
"It's Republicans who have regularly compared the FBI to the Gestapo, vaccines to yellow stars, and made other odious and dangerous remarks belittling the Holocaust."
The Conference of Presidents of Major Jewish Organizations, an umbrella organization of Jewish groups, declined to comment.