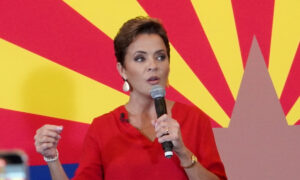 Arizona Republican gubernatorial candidate Kari Lake said during a Saturday speech that she was recently offered a bribe to leave politics.
Speaking at the annual Conservative Political Action Conference (CPAC) in Maryland, Lake said that days ago, "powerful people" approached her and tried to bribe her to get out of politics. A rising star in the Republican Party, Lake has been floated as a possible vice presidential candidate or a possible candidate for the U.S. Senate in 2024.
"Somebody showed up at my door this week, they called me before and said, 'I gotta talk to you in person,' this can't be done over the phone," Lake told a crowd Saturday. "They came to my door and they tried to bribe me [into] getting out of politics. This really happened. I'm telling you this because this is how disgusting politics is."
Lake did not elaborate on the identity of the individual or provide other specific details about the group. The Epoch Times could not independently verify her claims and has contacted her team for additional comment.
"They tried to bribe me with a job title, with a huge salary, a position on a board—this is how they do it," she told the crowd. "This person standing before me was sent at the request of some powerful people back east," she added, without going into detail on the board position or the organization. "They want me out of politics."
A former local television news anchor in Arizona, Lake stepped away from her longtime job in 2021 to enter the 2022 midterm race for governor of the state. Democrat Katie Hobbs was sworn in as governor earlier this year, although Lake has challenged the results of the Nov. 8 election in the state's court system and recently filed an appeal with the Arizona Supreme Court.
CPAC's annual conference is known for its straw polls of would-be presidential and vice-presidential candidates. During this year's drawing, former President Donald Trump handily won CPAC's straw poll with 62 percent of the vote, while Florida Gov. Ron DeSantis got about 20 percent.
Lake was the No. 1 choice for vice president among those who were polled at the conference. Lake got 20 percent of the votes, DeSantis was second place with 14 percent of the votes, and former South Carolina Gov. Nikki Haley was in third place with 10 percent to become the GOP running mate, according to reports.
What's Next
In the meantime, Lake has said that she plans on pursuing her election case in Arizona's court system, although last month she confirmed she's "entertaining" a run for Arizona's Senate seat in 2024. That seat is currently held by former Democrat-turned-independent Sen. Kyrsten Sinema, who has not indicated whether she's running for reelection.
When asked by Turning Point USA President Charlie Kirk if she's considering a run for the seat, Lake responded: "Yes, I am entertaining it. I mean my number one priority is our court case, and I have full confidence in our court case and I hope we will get a judge to do the right thing."
"But I'm also looking at what happens if we don't get a decent ruling in that, and they want me to go away, they want our movement to go away," Lake added. "I represent we the people, and if they want us gone so badly that they're willing to steal an election then I'm not going to let them have that, I won't go away."
In December 2022, a Maricopa County judge, Peter Thompson, dismissed Lake's initial lawsuit in which her lawyers pointed to a range of Election Day issues across Maricopa County polling centers. They have argued that the election should be redone or that Lake be declared the winner.
After appealing to the Arizona Court of Appeals, the court last month tossed her election suit and said she didn't provide enough evidence.
"Lake's claim thus boils down to a suggestion that election-day issues led to long lines at vote centers, which frustrated and discouraged voters, which allegedly resulted in a substantial number of predominately Lake voters not voting," the panel of appeals court judges wrote (pdf). "But Lake's only purported evidence that these issues had any potential effect on election results was, quite simply, sheer speculation."
On March 2, Lake wrote on Twitter that she would take her challenge to the state Supreme Court.
"We filed our Historic Election Integrity case with the Arizona Supreme Court. Pray for our Attorneys. Pray for the Judges. Pray for Justice. Pray for America," Lake wrote.