Kentucky Flood Victims Rebuild Again
The Cockerhams of Beattyville, Kentucky have lost everything again. Their home has been destroyed by flooding twice in 17 months.
In the heart of Appalachia, Earl Cockerham 81, and his wife Jennifer Cockerham, 62, live on Social Security, on the land once owned by Earl's grandparents.
The North Fork of the Kentucky River flooded their home in February 2021, and, daughter Allie Marshall told The Epoch Times it happened again in July when historic flooding hit eastern Kentucky.
To date, a total of 1,873 homes have been declared majorly damaged or destroyed, a representative from Kentucky Emergency Management told The Epoch Times in an email.
At least 39 people died.
American Red Cross has performed 8,300 damage assessments. The majority of the damaged or destroyed homes, 701, are in Breathitt County; followed by 438 damaged homes in Letcher County; 343 in Knott County; 243 in Perry County; and 86 in Floyd County, plus a few damaged/destroyed homes in Clay, Leslie, Martin, Owsley, Pike, and Whitley counties.
Folks in Lee County where the Cockerhams live, felt it too, but most were not as severely affected as in 2021, Marshall recalls.
After her parent's home was destroyed in 2021, they stayed with her for two months, and the family pitched in to get them back into housing.
"Start to finish, we had the house stripped down, mold treated down to the bare frame, and had them back home in 47 days."
Financial assistance from the Federal Emergency Management Agency (FEMA) arrived after the home was rebuilt. They had to pay for everything upfront.
Flooded Again
The home housed eight people, Earl and Jennifer Cockerham, the two grandsons they are raising, their daughter, her two daughters, and her fiancé.
Then on July 28, 2022, the river backwashed onto the Cockerham's property, flooding the new house nearly to the roof.
One of their cars was in the shop so when the water started to rise, they called Marshall to get a ride to drier ground.
"Me and my husband stayed awake all that night," Marshall said. "I had been up at about 6:30 that evening and picked up mom and dad. And at 3:30 that morning, when we went back up to check on it, it was gone," she said referring to the house flooded by water.
Her dad took his guns and her mother was able to save the family photos. Other than those items and some medicine, they took only the clothes they were wearing.
"Last year when it flooded, it took forever to save those pictures. We had a lot of the community come together and dry them out, take them home with them, and put them in albums," Marshall said. "She was frightened to ever put those pictures back out."
This time, they are not eligible for FEMA assistance Marshall says.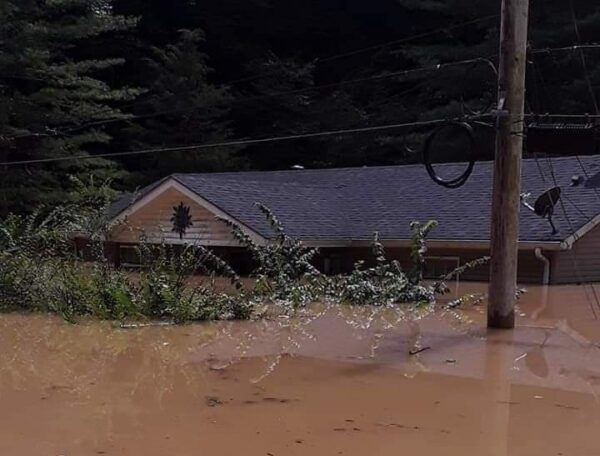 "The water rose above the doorways this time, and the house had been underwater last time. We feel like it's going to be something that happens again, maybe this year or next year. So, we don't know what we're going to do, or how we're going to do it, but we tore it down," Marshall said.
They are going to hand-build a house up the mountain, higher on the property. They are saving what they can from the waterlogged home for construction.
"We saved the gutter, the trusses, the two-by-fours, and the siding," Marshall said. "We're saving as much of the floor joists as we can. We're saving as much as possible with the windows and the exterior doors, that way we've got something to start with."
Some of the windows broke in the flood but some are salvageable.
"It hurts to watch," Marshall said. "It makes me angry because we put so much time and effort into the house last year. We put a lot of blood sweat and tears in. For it to just be gone again, it will make you angry."
Disaster Response
Karissa Ryan is assistant program manager of U.S. disaster relief with Samaritan's Purse, which is one nonprofit responding to Kentucky flooding in the most affected counties.
"There are a lot of people who are discouraged because this is the second year in a row that they're getting hit by what could be called a 1,000-year flood," Ryan told The Epoch Times.
"A lot of people live in the community that they were raised in and their family has lived in. The idea of moving away from that is hard because it feels like a part of their identity, so they're torn because now this has happened again," she said.
"I think that's what a lot of agencies are looking at. Is it responsible to do rebuild work in an area that now has flooded for the second time? But at the same time, we're seeing these are hurting people who are in need."
Low income is a factor for many. Flood insurance is expensive, especially in a proven flood zone, and many skip it in favor of putting food on the table.
"I think people feel like they're in a place of impossible choices, and some discouragement. There is some frustration, but also a lot of resilience."
Samaritan's Purse started Kentucky flood relief in early August and will stay until it is no longer needed. It arranges volunteers to clean up so homeowners can get started on the rebuild process.
In Kentucky they have a lot of mud-outs, removing mud from basements and living spaces, and removing wet building materials like damaged sheetrock and insulation.
The line of work orders is around 500 homes long. Ryan encourages volunteers to work with Samaritan's Purse or any other nonprofits working on the disaster. The more volunteers, the sooner people can get back into their homes.
Instead of going to shelters, some are still living in tents in their yards.
"With all of our work crews, the Billy Graham rapid response team also goes out to the sites and they're there just to be a listening ear. Just to pray with people and encourage them because recovery isn't just about physical recovery," Ryan said.
"It's about helping people have space to process the trauma that they've been through, especially with a flood like this. There's a lot of PTSD from the event and a lot of survivor's guilt."
Kindness of Community
Marshall put out a request on Facebook, for building materials and cash donations and although the family still has needs, her community has come through.
"There was a lady in our town that had a trailer on Airbnb. She reached out to me and asked me if they would want to stay there, rent, electrical, and water free. So yes, they said yes."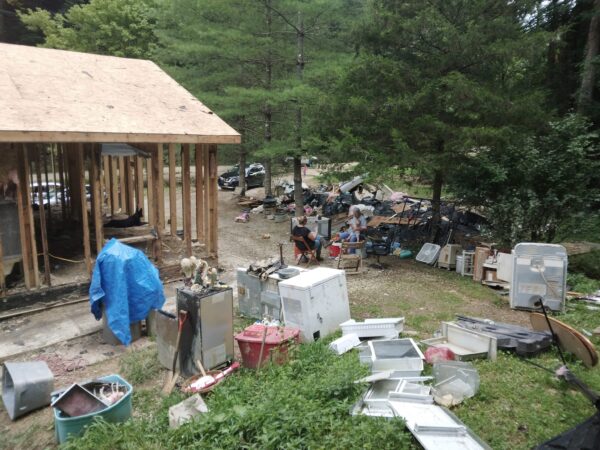 They have received enough blocks to build a foundation. One person donated enough nails and screws to build the entire home. And they have received a bedroom set, kitchen table, and chairs, and a couch.  Someone is also willing to store those items until the house is built.
Marshall will host a fundraiser at her bakery Sweet Obsessions, Sept. 3, featuring folks from around the area who can sing pretty well, she says, and she will donate proceeds of her sales to the building project.
She is grateful to those who have helped. "We appreciate them more than we could possibly ever express."
"I do think the Federal Government should help to rebuild every home taken by this flooding. It isn't fair," Marshall said. "Our rivers are too full, and they need to be dredged. I think that would help so much."
Lee County Judge Executive Chuck Caudill, says one could argue that over the last 100 years, since the Army Corps of Engineers built 14 locks on the Kentucky River and permanently shut the two closest to Beattyville, the river is shallower. As mountain streams wash silt down into the river, it has no place to go.
In March U.S. Rep. Hal Rogers, a Republican, announced that $450,000 in federal funds will be awarded to the U.S. Army Corps of Engineers to investigate solutions to prevent future floods in Beattyville.
"Eastern Kentucky has been impoverished for a long time—the central Appalachia plateau," Caudill told The Epoch Times. "We don't have many resources. We don't have a lot of businesses. We don't have a lot of residual wealth that sits here. The human impact is that people who were on the edge of survival or were doing slightly better, now are cast into poverty."
But because people know each other, they help each other, Caudill said.
"I hate to say this. I mean, if you've got insurance, you're covered up here," Caudill said. "But flood insurance is almost impossible to keep because of the cost. So, a lot of people, when it comes to flooding, have to sit there and overcome. They have to suck it up and recover themselves," he said.
"The good news is, we are recovering. We're going to keep recovering," Caudill said.
"The Appalachian people are used to hardship. We're used to living on the edge. We're used to being near poverty. And folks who aren't doing well reach out and they help their neighbors. That's just how we are."