Speaker of the House Kevin McCarthy (R-Calif.) thanked former President Donald Trump for helping him secure the speakership.
"I do want to especially thank President [Donald] Trump. I don't think anybody should doubt his influence. He was with me from the beginning," McCarthy told reporters early morning on Jan. 7, after winning the 15th vote to become the new speaker of the House.
"He was all in. He would call me and he would call others. And he really was—I was just talking to him tonight—helping get those final votes," McCarthy added. "What he's really saying—really for the party and the country—that we have to come together.
"We have to focus on the economy. We've got to focus, make our border secure. We got to do so much work to do, and he was a great influence to make that all happen. So thank you, President Trump."
McCarthy was finally elected speaker after 15 votes beginning on Jan. 3, after the California lawmaker had made several concessions to win over a group of populist conservatives in order to secure the votes. One of the key concessions was allowing just one House member to call for a motion to vacate the speaker's chair—giving McCarthy a fragile grip on power.
In the final vote, six remaining Republican holdouts all voted "present," paving the way for McCarthy's victory with 216 votes, while Democrat leader Rep. Hakeem Jeffries of New York received 212 votes.
The six House Republicans were Reps. Andy Biggs (R-Ariz.), Lauren Boebert (R-Colo.), Eli Crane (R-Ariz.), Matt Gaetz (R-Fla.), Bob Good (R-Va.), and Matt Rosendale (R-Mont.).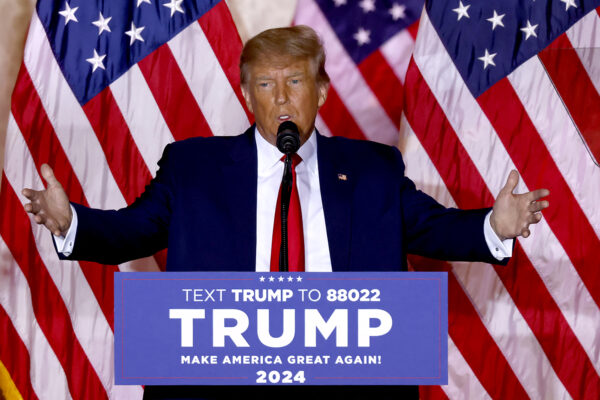 Trump threw his support behind McCarthy just before the fourth vote on Wednesday, telling House Republicans at the time that the California lawmaker "will do a good job, and maybe even a GREAT JOB" as speaker.
The former president took to his Truth Social platform to congratulate McCarthy after his victory.
"The Republican Party really came together last night. It was, in so many ways, a beautiful thing to see. HISTORIC!" Trump added in a separate post.
In response to McCarthy's comments, Trump wrote on Truth Social, "Thank you Kevin. It was my great honor!"
Rep. Mark Alford (R-Mo.) also thanked the former president for helping McCarthy secure the gavel.
"Thanks @realDonaldTrump for your leadership and influence to get us over the hump. Now it's time for us to get to work!!!" Alford wrote on Truth Social, before adding "Take Back America" and "MAGA" hashtags.
MAGA stands for "Make America Great Again," the slogan of Trump's successful 2016 presidential campaign.
Democrats
However, some Democrats have taken to Twitter to criticize "MAGA Republicans" following McCarthy's win.
Rep. Adam Smith (D-Wash.) said House Republicans "caved" again to Trump and "MAGA extremists," claiming that their decision will be "bad" for Congress and the United States.
"Extreme MAGA Republicans just held the House hostage for more than 4 days and prevented the 118th Congress from beginning its work," wrote Rep. Mike Quigley (D-Ill.). "This is just the beginning of the dysfunction when the Republican majority is being controlled by a small group of radical, power-hungry members."
"I'll be back in Washington next week to fight for a House that truly works for the people and not just a radical few," Quigley added.
Rep. Adriano Espaillat (D-N.Y.) said the delay in choosing a new speaker has "undermined" the United States.
"House Democrats are ready to work for everyday Americans—But this week's chaos led by extreme MAGA Republicans has undermined our nation's values and makes it much harder for Congress to work for the people," Espaillat wrote.
Espaillat added, "We will NOT let House Republicans take us backwards."
President Joe Biden released a statement saying he is ready to work with Republicans.
"As I said after the midterms, I am prepared to work with Republicans when I can and voters made clear that they expect Republicans to be prepared to work with me as well," Biden said. "Now that the leadership of the House of Representatives has been decided it is time for that process to begin."
Republicans
In his first speech to Congress after being elected, McCarthy promised to hold the Biden administration accountable, make the economy strong, and win the U.S.-China economic competition.
"As for the Chinese Communist Party, we will create a bipartisan select committee on China to investigate how to bring back the hundreds of thousands of jobs that went to China, and then we will win this economic competition," McCarthy said.
Some Republicans concurred with McCarthy over the importance of tackling the challenges posed by the Chinese regime.
"Speaker McCarthy has made it clear that our majority will be the first to address China as one of America's greatest threats," Rep. Jim Banks (R-Ind.) wrote on Twitter. "I look forward to working with him to provide the needed leadership to do that. Let's get to work!"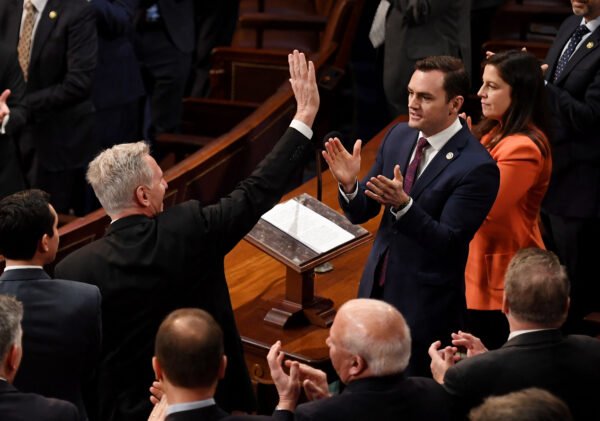 Rep. Mike Gallagher (R-Wis.), whom McCarthy named in December to be the chairman of the select committee on China, said in a statement after being sworn in that "hard work begins."
"The American people elected a House Republican majority to combat the threat posed by the Chinese Communist Party, restore fiscal sanity, and inject common sense into the legislative process," Gallagher wrote. "Now that Kevin McCarthy has officially become Speaker McCarthy, we can finally get to work and implement these commitments to the country."
Rep. Andy Barr (R-Ky.) has also added China to what he believes should be House Republicans' top to-do list.
"Now it is the time for House Republicans to begin the work we were elected to do: pass legislation out of the House to address forty-year high inflation, secure our southern border, reduce rising crime, and confront threats from adversaries abroad like China," Barr wrote on Twitter.
In March last year, McCarthy said he aimed to "expose the truth behind China's COVID Coverup," when Republicans had the majority in the House.