Many California residents have been suffering from doctor shortages that cause long wait times to see a physician. Dr. Henry Chien, a family practice and internal medicine physician in Shafter, California, told The Epoch Times what he believes are the reasons behind the shortage.
He described what it is like being a primary care doctor: "It's long hours, and the pay sucks."
The California Healthcare Foundation has stated: "California's health workforce is facing severe shortages."
"It's not what you think," Chien said. "What the media is telling you is not the whole truth. No one is talking about the real story."
He talked about several reasons, such as large numbers of doctors retiring, but he believes a major factor that goes largely undiscussed is that not enough doctors-in-training can get into residency programs.
Aging Population
In addition to California, the rest of the nation also faces a growing shortage of primary care physicians as baby boomers get older and require more medical care.
Doctors are also getting older. More than two fifths of physicians in the United States are expected to reach the age of 65 or older within the next decade, the Association of American Medical Colleges reported in 2021.
Low Pay in Primary Care
Chien said, "New doctors do not want to go into primary care because the pay is lower than other areas, such as orthopedics, general surgery, psychiatry, and plastic surgery."
According to the Council on Graduate Medical Education, only around 20 percent of American medical students go into primary care, which includes general pediatric and general internal medicine.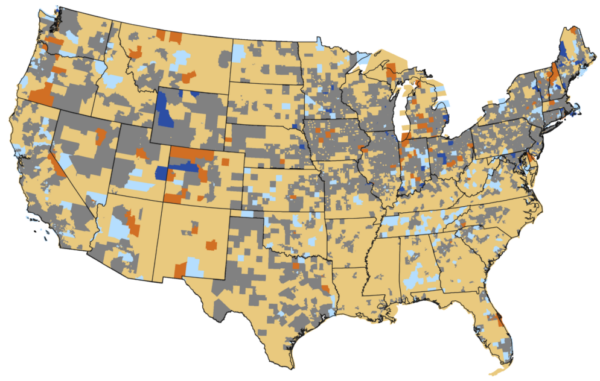 Rural Areas
A map from the Health Resources & Services Administration shows that California, as well as the rest of the country, has shortages of doctors in rural areas.
"Medical schools are not recruiting doctors or giving them incentives to work in primary care in rural areas," Chien stated. "There are going to be new programs from the government that are supposed to help both doctors and patients."
He said the programs are supposed to ease the load on primary care physicians and help patients find doctors more easily. However, he is hesitant to have more government involvement in healthcare.
According to Let's Get Healthy California, the state of California will need an additional 4,100 primary care doctors to meet the projected demand in the next 10 years, and simply having health insurance does not always mean that one receives "appropriate or high-quality care at the right time."
An estimated 7 million Californians live in areas that have shortages of primary care, dental care, or mental health care, according to the California Future Health Workforce Commission.
Chien said, "This delay in receiving healthcare results in barriers which negatively affect health outcomes."
He thinks medical schools should educate doctors to go into practice in rural areas.
Chien stated that he works in what is considered a rural office on Mondays, and the rest of the week he works in Bakersfield, which is a large city. When he is at the rural office in Shafter, he is swamped with patients.
He said he is very thorough with his patients, so his patients typically have longer wait times.
"I like to take extensive notes on my patients, which some primary doctors are not doing from lack of time and the demand to see too many patients on a daily basis," he said.
As an example, he mentioned one patient who was referred to him from another doctor.
"The notes section was empty when it should have contained notes," he said. "I had no idea why the patient was referred to me."
Residency Programs
Chien stated, "The referenced statistics of retiring doctors, medical students not wanting to go into primary care because of the pay, long hours, and not [being] able to take adequate time with each patient are all true, as well as doctors not wanting to go into practice in rural areas, but that is not the whole story."
Chien believes that there is not a problem recruiting doctors to go to medical schools and that enrollment numbers keep going up.
"What the public is not being told is that there are thousands of doctors in California that would love to be working, but they cannot get into residency programs to complete all their training," Chien said. "The number of spots in residency programs never changes, and that number is controlled by the government."
As a result, he said, doctors are losing hundreds of thousands of dollars in loans that they won't be able to repay.
Chien said he went to a medical school in Mexico that was a feeder school for U.S. residential programs.
"The training was identical to the medical schools in the United States," he said.
He said that right when his class in Mexico was almost finished with medical school and was to go into residency in the United States, a member of the Department of Education made the decision himself to shut down this U.S. feeder program from Mexico. This caused acceptance rates into U.S. residency programs to plummet.
"I had to get an attorney," Chien said.
After others in his program got an attorney as well, the U.S. government decided to let Chien's class be the last class that would be accepted into U.S. residency programs at a high percentage.
Chien stated, "There are plenty of doctors in the state of California that received training from other countries and have been practicing doctors in those other countries, but when [they move] to the United States to continue to practice medicine here, the government is putting too many restrictions on them, and they are not allowed to be doctors."
"It is not right," Chien said. "The doctors are out there wanting to work. If there is a shortage, it's not because good doctors are not available."
A real concern of his is that "due to doctor shortages, patients are seeing more physician assistants, who only have two years of training and then they are allowed to practice medicine."
He said, "Physician assistants are the only provider people can see, because it takes a long time to get an appointment with the primary care doctor, from the shortages."
He worries that patients are not getting the adequate care that they deserve.