LA's Bus Driver Shortage Has Led to Around 10,000 Canceled Trips a Month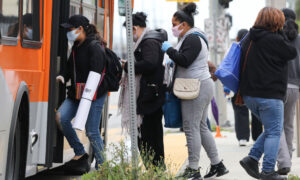 LOS ANGELES—A shortage of bus drivers in Los Angeles resulted in around 10,000 canceled DASH routes a month over the last two years, or an average of 15 percent of scheduled trips, a Department of Transportation representative told the city council's Transportation Committee Jan. 25.
It's part of a nationwide trend in which 96 percent of 190 transit agencies across the country reported a workforce shortage, according to a motion filed by Council President Paul Krekorian last week. Krekorian requested a report from the department on the city's bus driver shortage.
While ridership on downtown routes has recovered to 75 percent of pre-pandemic levels, the mid-city route is missing about a quarter of drivers necessary to run at full service. As a result, there are longer wait times and a lack of ability for the transportation agency to meet its expansion goals.
Additionally, the city's existing transit service contracts were last approved in 2019, 2020, and 2021. Those wages are now among the lowest in Southern California for transit operations.
The agency contracts out the operation of the city's transit services—DASH, Commuter Express, Cityride, and LAnow—through five separate contracts.
The lack of drivers may lead to delaying a number of council-approved initiatives under the Transit Services Analysis, including aligning routes citywide, creating new DASH routes, and adding more community DASH routes, according to Krekorian's motion.