Lawsuit Claims Headteacher Designed Meme Featuring Student with Exposed Breast, Circulated Within School | US News
A headteacher created a meme of one his students with her breast exposed before it was shared with employees at the school, a lawsuit claims.
Bradley Layfield and assistant headteacher Matthew Jones are accused of making the meme by using security camera footage which showed Aniya Harmon, 18, confronting a boy and a girl at the Sussex Central High School in Delaware in May this year.
A woman who works at the school had stepped in and pulled Ms Harmon away from the confrontation – causing the student's clothes to come apart and exposing one of her breasts, according to the lawsuit.
Layfield and Jones are alleged to have created a meme by replacing Ms Harmon's face with that of pop star Janet Jackson.
The meme is said to have referenced when Jackson's breast was exposed by singer Justin Timberlake during the 2004 Super Bowl halftime show.
Jones shared the meme with vice principals, administrators and teachers on his school-issued laptop, according to the lawsuit.
At least six people had access to images of Ms Harmon's breast, the suit alleges.
Ms Harmon's mother Tosha White has said she heard a rumour that the meme existed a few days later.
She said: "I didn't have any proof that it was my daughter, but all of the facts started to add up."
Ms Harmon, who graduated from the school this year and is now in college, said: "I'm still upset, I'm hurt, disappointed."
Ms White said she didn't receive confirmation the meme existed until eight days after the incident, when the assistant superintendent called her to schedule a meeting.
She said by this point both men had been placed on administrative leave.
"I was in shock. I just couldn't process it right away," Ms White said. "And then, after the shock came down, it was more anger, hurt, disbelief. So many emotions."
She added: "And still to this day. I still have all of the emotions."
Ms Harmon sued Layfield and Jones earlier this month alleging invasion of privacy by intrusion and publication of private matters.
The lawsuit, filed in the Delaware Superior Court in New Castle County, names Sussex Central High School and Indian River School District as defendants.
Read more US news:
Man drives off collapsed bridge following Google Maps
Suspect wanted on rape charge arrested after 'faking own death'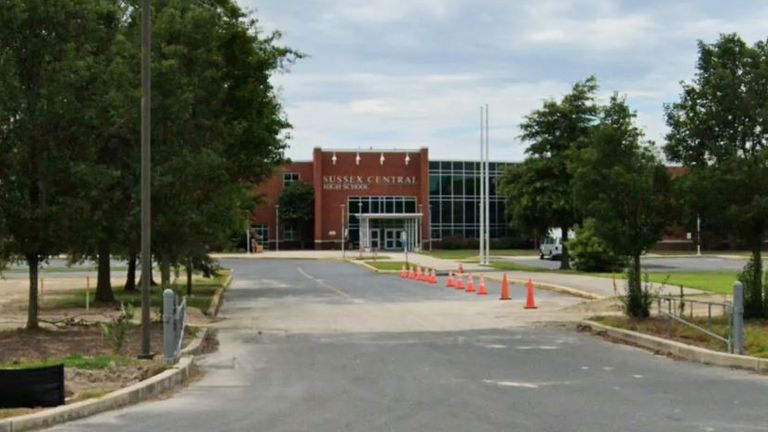 Emeka Igwe, a lawyer for Ms Harmon, said what happened to her client is reprehensible and that the purpose of the lawsuit is to hold the administrators responsible.
Thomas S Neuberger, Layfield's lawyer, has denied any wrongdoing by his client.
He said Layfield was placed on leave on 22 May.
Mr Neuberger says Ms Harmon's breast became exposed while she was involved in a fight – something which the student disputes.
The lawyer said Layfield was not involved in creating or circulating the meme and that the headteacher showed the security video to nine people, including state troopers and some staffers, such as administrators and teachers, with the intent "to keep children safe".
Mr Neuberger placed the blame for the meme on Jones, whom he said created and shared it.
Jones did not immediately reply when asked for comment by Sky News' US partner NBC News.
A representative from the school also declined to comment.