LOS ANGELES—The city council voted Jan. 10 to continue a state of emergency on homelessness in Los Angeles, reaffirming Mayor Karen Bass's first official act last month that gives her the ability to confront the crisis more aggressively.
Since the council approved the emergency last month, Bass has signed directives to streamline the approval of certain affordable housing projects and initiate a program intended to bring residents of encampments indoors.
Whether to continue the state of emergency will be evaluated monthly by several indicators of progress, including the number of encampments and housing placements, and how much more flexibility city departments are allowed through the declaration.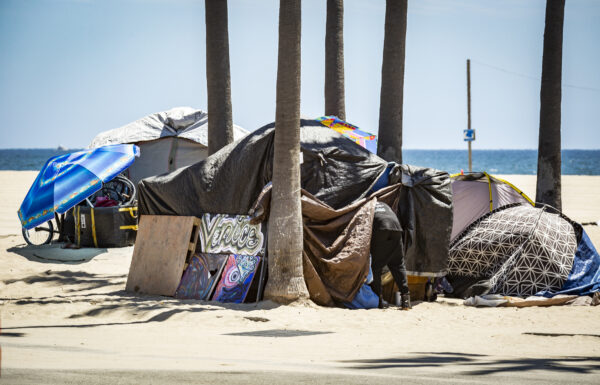 The declaration is scheduled to last six months.
The last time a mayor declared a local emergency related to homelessness was in 1987 when Mayor Tom Bradley cited the effect of winter weather on people experiencing homelessness, according to the declaration. The conditions now, the declaration claimed, are "even more dire."
There are an estimated 41,980 unhoused people in the city of Los Angeles, up 1.7 percent from 2020, according to the latest count by the Los Angeles Homeless Services Authority.
Bass's program focusing on encampments, called the Inside Safe Initiative, will work to identify the "highest need encampments" that have a chronic and high demand for services, according to the directive. Using citywide coordination between various departments and agencies, the action plan calls for identifying interim housing and eventually permanent housing resources for each person living in the encampments.
Under Bass's first directive on streamlining project approval, city departments must conduct all reviews and issue approvals for 100 percent affordable housing projects within 60 days. Once construction starts, the utility permitting and certificate of occupancy process must be completed within five days for affordable housing units and two days for temporary housing.