Los Angeles Unified Teacher, Staff Strike to Start Next Week; Schools to Close for 3 Days
[ad_1]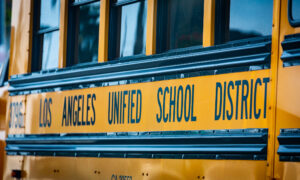 Union leaders in the Los Angeles Unified School District (LAUSD) announced they will strike for three days next week, canceling classes for about 430,000 students in the nation's second-largest school district.
SEIU Local 99—the union representing 30,000 cafeteria workers, bus drivers, custodians, special education assistants, and other non-teaching staff at LAUSD—announced the strike at a rally in downtown Los Angeles March 15.
At the rally, United Teachers of Los Angeles (UTLA)—the union which represents LAUSD's 35,000 teachers—announced they would strike as well in support.
According to organizers, the strike will begin March 21.
SEIU Local 99's executive director, Max Arias, acknowledged in a March 15 statement that the strike will be a "sacrifice," but said the district pushed them to do so.
"Families have been sacrificing for far too long on poverty wages," Arias said. "Students have been sacrificing for too long in school environments that are not clean, safe or supportive for all. Too many workers have been subjected to harassment simply for demanding change. Enough is Enough!"
The union, which has been negotiating a new contract for its members with the district since April 2022, said the strike was necessary because it had reached an impasse with LAUSD.
Its proposal requests "good wage increases"—though it does not specify amounts—with increases at the 10th year and includes a so-called "Me Too" clause—meaning if any other LAUSD bargaining unit receives a wage increase, the union would receive one as well.
Other benefits the union is seeking are full-time hours, pay for mandatory training and certifications required for work, no split shifts, and substitute relief for absent coworkers.
It also requests the district notify and bargain with the union before changing schedules and hours.
In a March 14 statement, LAUSD said it offered union members a 5 percent wage increase for 2022–23 and a one-time 4 percent bonus. For the following year, the district offered the same pay increase, and a five percent one-time bonus.
Additionally, it offered "market-driven pay increases" to the annual salaries of some staff—$20,000 for nurses, $3,000 for school psychologists, $2,500 for special education teachers, and $1,000 for early education teachers in addition to the wage increases.
Despite this, "SEIU is simply refusing to negotiate," LAUSD Superintendent Alberto Carvalho said in a March 15 statement.
"With a historic offer on the table that was created in direct response to SEIU's demands, and with additional resources still to be negotiated, it is deeply surprising and disappointing there is an unwillingness to do so," he said.
In the statement, Carvalho called on union leaders to "come to the table" to reach a deal before the strike disrupts school for the district's students.
"Let's work together to avoid a strike and keep our students in schools," he said.
Carvalho also spoke directly to parents regarding the potential disruption of their children's schooling.
"I want to personally apologize to our families and students," he said. "You deserve better. Know that we are doing everything possible to avoid a strike."
The last time Los Angeles public schools were disrupted by a strike was in 2019 when UTLA walked off the job for six days demanding higher pay for teachers, smaller class sizes, and more nurses, librarians, and counselors for schools.
The strike ended after LAUSD and the union struck a deal on all issues, including a 6 percent raise for teachers.


[ad_2]

Source link