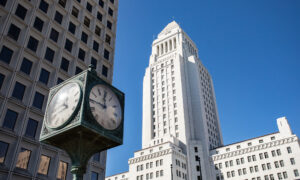 The Los Angeles City Council tentatively voted Jan. 27 to provide tenants who are behind on their rent with a one-month grace period prior to their landlord beginning eviction proceedings, adding to an ordinance adopted last week implementing universal just-cause rules for evictions.
The council also discussed an ordinance that would provide relocation assistance if a tenant cannot afford rent increases of a certain amount, but delayed a vote on the item until Tuesday due to an amendment requiring more time for the city attorney's office to edit the draft ordinance.
The ordinances are part of a package of renter aid ahead of the expiration of the COVID-19 state of emergency at the end of the month. The council's decision to end the state of emergency also sunsets the temporary tenant protections that have been in place since the start of the pandemic, putting pressure on itself to enact policy ahead of the deadline.
The council voted 9–2 on Friday for the ordinance that allows tenants behind on rent to stay in their apartments for a month, unless they owe more than one month's worth of fair market rent. The ordinance includes an urgency clause, but will need to come before the council for a second vote next Friday because it did not pass unanimously. Neither ordinance discussed Friday would be adopted before the state of emergency expires.
According to the city's housing department, fair market rent for a one-bedroom apartment in Los Angeles is $1,747 and $2,222 for a two-bedroom.
Tenant groups feared a wave of evictions once the long-standing protections expire. The volume of eviction filings has begun to resemble pre-pandemic levels, according to Kyle Nelson, a postdoctoral fellow at UCLA and a member of the LA Renters' Right to Counsel Coalition.
Nelson, who has compiled data on evictions in Los Angeles County during the pandemic through court filings, said the number of filings could increase to levels not seen since the Great Recession—which contributed to more than 72,000 eviction filings in 2008. According to the National Equity Atlas, there are 226,000 households in Los Angeles County behind on rent.
"We are deeply concerned that lifting protections without adopting robust permanent policies will trigger a wave of evictions and homelessness that we have been fearing since the beginning of the pandemic," said Faizah Malik, senior staff attorney at Public Counsel.
Earlier this week, the Los Angeles County Board of Supervisors extended by two months its tenant protections against eviction for those impacted by COVID-19, which would cover city residents.