LOUDOUN COUNTY, Va.—Loudoun County Commonwealth's Attorney (CA) Buta Biberaj has announced that her office will no longer automatically be involved in prosecuting certain misdemeanor crimes, including trespassing, petty larceny, underage possession of alcohol, and being drunk in public.
The announcement came on Friday, a day after ABC7 reported a letter that Biberaj wrote to Loudoun County judges on Dec. 30 announcing the change, which will be effective from Jan. 16.
"I would like to have the opportunity to present to you changes that are occurring in the Office of the Commonwealth's Attorney that may impact your courts," Biberaj began in the letter. The change was based on the decision to prioritize resources for prosecuting "the more egregious cases that are being charged by law enforcement and threaten the safety of our community."
Friday morning, Loudoun County Sheriff Michael Chapman released a statement stating that his office hadn't received any official correspondence from Biberaj's office. "While we are disappointed in this action by the Office of the Commonwealth's Attorney, we are doing everything in our power to support our deputies through this transition and will make every effort to ensure that we continue to partner with the community to provide the same great service to the everyone in Loudoun County."
At the press conference on Friday afternoon, Biberaj said the letter to the judges was "prematurely released."
"You didn't know because it wasn't your time to know," she responded to a reporter's question that law enforcement and others were surprised by the change.
"We invited our general court judges to have a conversation: how can we do this and best serve you and best serve our community?" she said of the process. "And from that conversation, the next step would be to talk to our law enforcement partners. The next step is to talk out to our defense bar in our community and then to be able to share that with the public."
Will Loudoun See Crime 'Open Season?'
At the press conference, Biberaj said that misdemeanor crimes will still be prosecuted after Jan. 16.
"If anyone reads the letter, there's a portion in it as such talking about the fact that these cases are prosecuted, and they're presented to the court by law enforcement."
She said no one should read her letter and interpret it as, "This is an open season; go commit a crime."
She added, "We would still prosecute those if we're needed. So that's the point I'm trying to make: all those cases will continue to be prosecuted. What we're doing is we are extending the opportunity to our law enforcement officers to take the lead and making those presentations, but the prosecution has not changed. They will all be prosecuted."
Chris Kachouroff, a criminal defense lawyer and a former police officer, said crime open season was what the letter sounded like because Sheriff's deputies were not trained lawyers and could not play the role of a prosecutor. "I think people here are not ready for that," he told The Epoch Times. "And I think she [Biberaj] is getting a little bit of backlash."
He said that the CA's office policy change would effectively lead to those misdemeanor cases not being prosecuted. According to his experience, law enforcement officers wouldn't make the arrests if certain charges weren't prosecuted.
Loudoun County Sheriff's Office hasn't responded to The Epoch Times' inquiry about whether the office will still arrest misdemeanor offenders who the CA's office won't prosecute.
Kachouroff gave an example: Virginia's petty larceny involves crimes of up to $1,000 value. "If you don't take the bad guys, know that they do," he said. "And if these people aren't even going to be arrested by the sheriff, they're going to walk into all the retail stores, take clothes off the rack, and walk out. There's nothing that anybody can do about it."
But charges are made per offense and are not cumulative. Therefore, stealing $980 each time would allow a criminal to face no consequences, Kachouroff said, unless a conspiracy, which involves evidence of two people conspiring together, could be proven.
He said people might think that an officer could also be a prosecutor from their traffic court experience, but that's not the norm.
According to him, the law requires a company to be represented by a lawyer in court, so the local government also needs a lawyer. If not, the local government is getting a legal exception, and that's not right, Kachouroff said.
Kachouroff added that the officer's role in court is more like a witness answering questions posed by the prosecutor so a judge can identify defendants who are guilty.
When a prosecutor is missing from the picture, the judge shouldn't fill that role, Kachouroff added. If a judge plays the part of the prosecutor, then one person would simultaneously exercise the powers of the judicial and executive branches, which violates Article III of the Constitution of Virginia, entitled "division of power."
Biberaj Challenged in Re-Election
Earlier in the week, Elizabeth Lancaster—a Democrat, criminal defense lawyer, and former deputy public defender—announced to run against Biberaj in the primary for the next CA in Loudoun County. The next general re-election for the county's leading criminal justice officer position is in November 2023.
"Anyone who works in the justice system knows that the types of misdemeanor crimes Ms. Biberaj is refusing to be involved with are most often committed by our most vulnerable populations; folks with substance abuse disorders or those experiencing a mental health crisis," Lancaster told The Epoch Times.
"Charges like trespass and drunk in public are often brought against our homeless population. These populations are already struggling to advocate for themselves for their basic needs, and yet we are going to ask them to do this in Court?" she added. "It is a dereliction of duty generally. It is an abomination for an elected official who ran on a platform of criminal justice reform."
Lancaster had represented the family of the victim in the infamous high school bathroom rape in Loudoun County.
CA Personally Prosecuted Recent Trespassing Case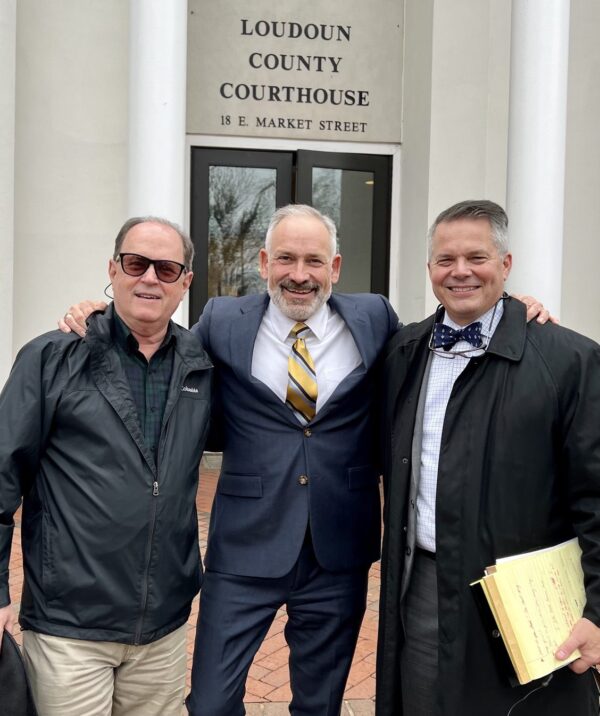 While a lack of resources was the reason for the CA's office to drop the automatic involvement in some misdemeanor cases, on Jan. 3 and 4, Biberaj personally prosecuted a Loudoun father's trespassing appeal case.
Jon Tigges was arrested during a Loudoun County school board meeting on June 22, 2021, for trespassing after refusing to leave the board room of the public meeting. He was found not guilty after the two-day trial.
Biberaj's office didn't respond to The Epoch Times' inquiry about why she personally prosecuted a trespassing case while shifting her office's resources away from trespassing and other misdemeanor cases.
Tigges' attorney Chris Kachouroff previously told The Epoch Times that Biberaj's involvement in Tigges' case was "highly unusual."
"I've been practicing for 22 years. There are two times I can remember a Commonwealth's Attorney personally prosecuting any case, and both were high-profile murder trials," Kachouroff told The Epoch Times. "I cannot conceive of a Commonwealth's attorney ever prosecuting a misdemeanor. They have the power, but that's like the President screwing in the light bulbs in the White House. Can she do it? Sure, but why?"
The office said in a previous statement to The Epoch Times that it relies on law enforcement to make charging decisions. "When charges are filed and referred to the Office of the Commonwealth's Attorney, we assess the evidence and present it to the court. We may be disappointed at the decision, but we respect the decision and thank the court for its time and consideration of this matter."
In August 2021, "Virginians for Safe Communities" (VSC) launched a signature campaign to recall Biberaj. The organization said the CA's "neglect of duty, misuse of office, and incompetence in the performance of her duties" were reasons for its petition.
VSC told The Epoch Times, "We are rapidly approaching the required threshold of signatures. But as the 2023 election fast approaches, our efforts will begin to transition toward voter education ahead of the June 2023 primary election to ensure Ms. Biberaj is removed from office one way or another."
Below is the complete list of misdemeanors that the Loudoun County CA's office will cease to be involved in without a request from the Sheriff's office:
Traffic Offenses;

Traffic infractions (the consequences are fines)
Teckless driving: speeding under 90 mph
First offense driving on suspended/no operator's license
Hit and run: property damage
Eluding
Registration and titling offenses
Criminal Offenses, includes those offenses that are statutorily eligible for deferred findings:

Trespass (deferred finding eligible)
Petty Larceny
Possession of Schedule III/IV (deferred finding eligible)
Drunk in Public (max fine is $250)
Underage Possession of Alcohol (deferred finding eligible)
Noise Complaints
Violations of Ordinances
Failure to Appears
Trials in Absence (not punishable by jail/fine only)