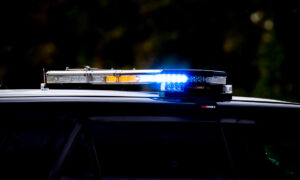 SAN DIEGO—A man suspected of setting two fires at a Pacific Beach fire station was arrested Jan. 20.
The San Diego Metro Arson Strike Team was called to investigate two fires set on Jan. 7 and investigators from the team gathered evidence from the scenes and identified Brett Hoffman as a suspect in both arsons, San Diego Police Department Lt. Adam Sharki said.
Hoffman was arrested at 1:40 p.m. at Mission Boulevard and Pacific Beach Drive and booked into the San Diego County Jail on multiple counts of arson to property, Sharki said.
The first fire was reported at approximately 1:30 a.m. Jan. 7 behind San Diego Fire-Rescue Station 21 in the 4200 block of Mission Boulevard where a watercraft belonging to the San Diego Fire-Rescue Lifeguard Division was set on fire, police said.
At approximately 3:35 a.m. Jan. 7, another fire was reported at the same location, where another lifeguard vehicle was set on fire and destroyed. The fire spread and ultimately destroyed a second vehicle and damaged a third, police said.
Anyone with information regarding these fires was asked to call the San Diego Metro Arson Strike Team at 619-236-6815 or Crime Stoppers at 888-580- 8477.