Man Faces Charges Following Attack on 69-Year-Old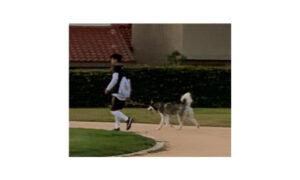 Irvine police have arrested a 23-year-old man for the assault of an elderly man, they said March 25.
Keven Quiroz was booked at Orange County Jail on charges of assault with a deadly weapon and elder abuse.
The charges stemmed from a March 19 assault on a 69-year-old man at Sierra Visa Middle School.
Surveillance footage shows the victim walking his dog about 7 p.m., when an off-leash husky approached him aggressively.
The man scooped up his own dog in order to avoid a fight.
The husky appeared to be connected to a man, who can be seen in surveillance video jogging and kicking a soccer ball in the area.
Minutes later, the husky again approached the victim's dog, which caused the elderly man to lose control of his dog's leash. The dogs began fighting while the victim attempted to separate them.
While this was occurring, the assailant approached the elderly man from behind and struck him on the head.
The victim was brought to hospital for treatment of unknown injuries.
Police said an anonymous tip led to the arrest.