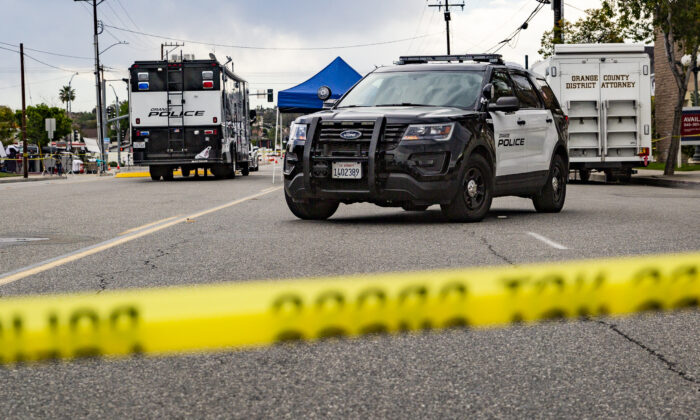 Orange Police monitor a crime scene in Orange, Calif., on April 1, 2021. (John Fredricks/The Epoch Times)
ORANGE, Calif.—Authorities sought the public's help March 19 in identifying and locating a man they believe wounded another man during a shooting at an open-air outlet mall in Orange.
Officers responded at about 9 p.m. March 17 to a "shots fired" call at The Outlets at Orange, located at 20 City Boulevard West. A group of men who appeared to know each other were involved in an altercation, the Orange Police Department reported.
"One male shot at a male adult, striking him once in the leg," police said. "The suspect, who was described as a male Hispanic wearing gray sweat pants and a black long-sleeve shirt, fled the scene."
The victim's friends drove him to a hospital where he was listed in stable condition.
Police urged anyone with information about the shooting to call them at 714-744-7444 or Orange County Crime Stoppers at 855-847-6227.