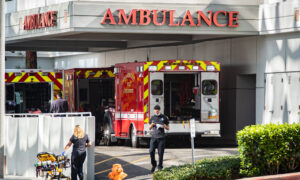 A man was killed by four dogs March 8 while he was working at a property in Jurupa Valley, according to Riverside County Sheriff's Department.
The deputies responded around 7:30 a.m. to the corner of Bellegrave Avenue to a 911 call reporting screaming and found an unresponsive man in a front yard with four dogs surrounding him.
Mateo Salvador, 42, who suffered from multiple dog bites was treated on-site. He was then transported to a local hospital and later pronounced deceased.
Riverside County Animal Services Director Erin Gettis said the incident was a dreadful reminder for dog owners to remain vigilant to safeguard the safety and wellbeing of communities, dogs, and individuals.
"This is a tragedy, and our thoughts go out to this gentleman's family and loved ones," Gettis said in a statement.
It was reported that the victim had done prior work for the owner at the property—a house converted to a business—without any incident, according to the animal service department.
The owner was not at the property at the time of the attack, but when he arrived, he surrendered his dogs to Animal Service for humane euthanasia.
According to the agency, three of the dogs were Belgian Malinois and the fourth was a Cane Corso.
The Sheriff's department said an investigation is ongoing, and no criminal charges are being filed at this time.
Anyone with information is encouraged to call Investigator Ko at (951) 955-2600.