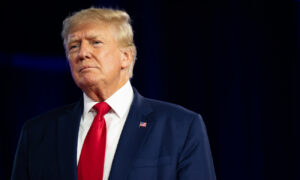 Manhattan District Attorney Alvin Bragg may soon be pressing charges against former President Donald Trump regarding the former president's alleged involvement in providing hush money to adult film actress Stormy Daniels, Trump confirmed on social media after multiple outlets reported the news.
Bragg, a Democrat, offered Trump the opportunity to testify to a grand jury next week, according to multiple media outlets. This move signals that Bragg may be pressing criminal charges soon, as New York laws require that prospective investigation targets be presented an opportunity to testify before a jury before the defendant is indicted.
It is unclear at this point what the exact charges would be. Based on the former president's statements on social media Thursday, the charges would likely center around a claim by Daniels that she had received $130,000 of hush money from former Trump lawyer Michael Cohen before the 2016 presidential election, which she said was intended to cover an alleged 2006 tryst between her and Trump. Trump denied all allegations made by Daniels.
Daniels sued Trump in 2018 to break that non-disclosure agreement about the alleged liaison. After the court dismissed the case, Daniels unsuccessfully sued Trump again for defamation after Trump mocked some evidence she presented as a "con job."
A criminal charge against Trump would be the first-ever indictment of a former president and would add to the legal challenges faced by Trump as he seeks the Republican nomination for president in 2024. Trump currently faces several challenges, including a special purpose grand jury investigation into alleged election interference activities and a consolidated Department of Justice probe into his handling of classified documents on his property in Mar-a-Lago, Florida.
'Witch-Hunt'
Trump protested the Manhattan DA's case against him on Truth Social, his social media platform, late Thursday.
"I did absolutely nothing wrong, I never had an affair with Stormy Daniels, nor would I have wanted to have an affair with Stormy Daniels," Trump wrote. "This is a political Witch-Hunt, trying to take down the leading candidate, by far, in the Republican Party while at the same time also leading all Democrats in the polls, including Joe Biden and Kamala Harris."
"Congress and numerous Democrat District Attorneys, Attorneys General, and the Department of Injustice itself, which has unprecedentedly placed top DOJ prosecutors into the Manhattan District Attorney's office in order to 'get Trump,' have found that I did nothing wrong," Trump wrote. "Now, they fall back on the old, and rebuked case which has been rejected by every prosecutor's office that has looked at this Stormy 'Horseface' Daniels matter, where I relied on counsel in order to resolve this Extortion of me, which took place a long time ago."
"Since then, I have won lawsuits for hundreds of thousands of dollars against Stormy Daniels, and every prosecutors' office which has looked at it, which are numerous, including the [Federal Elections Commission], have turned this fake case down. This is not a state case, it is a federal case, and they have all passed on it," Trump said.
"It is appalling that the Democrats would play this card and only means that they are certain that they cannot win at the voter booth, so they have to go to a tool that has never been used in such a way in our country, weaponized law enforcement," Trump said.
"I will not be deterred, I will always continue to be your voice, and I will keep fighting for our great Country," the former president added.
During the Conservative Political Action Conference in Maryland on March 4, Trump said he would "absolutely" stay in the race if he's criminally charged.
"Oh, absolutely, I won't even think about leaving," Trump told reporters at the conference. "Probably, it'll enhance my numbers, but it's a very bad thing for America. It's very bad for the country."
The Epoch Times contacted the Manhattan District Attorney's Office and Trump's attorney for comment.
Reuters contributed to this report.