Manhattan DA's Prosecution of Trump Tells 'Everything You Need to Know About the Radical Left': Mike Pence
[ad_1]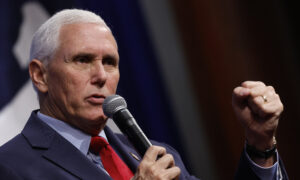 Former Vice President Mike Pence on Sunday called the potential impending arrest of former President Donald Trump a "politically charged prosecution" by the radical left.
Speaking on ABC News's "This Week" program, Pence criticized Manhattan District Attorney Alvin Bragg, a Democrat, for prioritizing going after Trump over the crime surge in New York City.
"I'm taken aback at the idea of indicting a former president of the United States, at a time when there's a crime wave in New York City," Pence told host Jonathan Karl. "The fact that the Manhattan DA thinks that indicting President Trump is his top priority, I think just tells you everything you need to know about the radical left in this country."
"It just feels like a politically charged prosecution here," he added. "I, for my part, I just feel like it's just not what the American people want to see."
Pence's comments came the day after Trump announced on Truth Social that he expects to be arrested on Tuesday, March 21, as part of Bragg's inquiry. Bragg is reportedly investigating Trump over an alleged $130,000 hush money payment made to adult film actress Stormy Daniels during the 2016 presidential election.
If Trump is indicted, he would become the first former U.S. president to be charged with a criminal offense. Trump has denied any wrongdoing, calling the investigation a "fairy tale" with "no crime being able to be proven." He is also encouraging supporters to protest his potential arrest.
In response to Trump's calls on people to protest, Pence said that the American people have the right to do so, and in a peaceful and lawful way.
"The frustration the American people feel about what they sense is a two-tiered justice system in this country, I think, is well-founded," Pence told Karl. "But I believe that people understand that if they give voice to this, if this occurs on Tuesday, that they need to do so peacefully and in a lawful manner, that the violence that occurred on January 6, the violence that occurred in cities throughout this country in the summer of 2020 was a disgrace."
"The American people won't tolerate it and those that engage in that kind of violence should be prosecuted to the fullest extent of the law."
In a similar vein, Vivek Ramaswamy, who is running for the 2024 Republican presidential nomination, said on Sunday that the ruling party's use of police power to arrest a political rival is fundamentally "un-American" and would lead to a "national disaster."
"This will mark a dark moment in American history and will undermine public trust in our electoral system itself. I call on the Manhattan District Attorney to reconsider this action and to put aside partisan politics in service of preserving our Constitutional republic," Ramaswamy wrote on Twitter.
"Prosecutors should apply the same standards as they would to anyone else: this wouldn't have been a criminal prosecution in any other case (a misdemeanor at most)," he argued. "No doubt about it. Our entire country is skating on thin ice right now & we cannot afford to politicize the justice system or else we will reach our breaking point."
[ad_2]

Source link