Maricopa County Files Motion to Dismiss Kari Lake's Election Lawsuit
Attorneys for Maricopa County, Arizona, on Thursday asked a judge to toss GOP gubernatorial candidate Kari Lake's lawsuit that alleged the Nov. 8 election was botched and she should be declared the victor or a new vote should be carried out.
In a motion filed (pdf) Thursday, lawyers for Arizona's most populous county said Lake's lawsuit is based on "pure speculation about what might have happened" during Election Day. Claims in Lake's lawsuit are "insufficient for a court to reduce the vote totals in the official certification and alter the outcome of the election," the motion further said.
Allegations in Lake's election challenge, meanwhile, do not "support finding that she is entitled to be awarded enough votes to change the outcome of the election," Maricopa County's lawyers wrote. Her team does not "show even a single illegal vote, any erroneous count of votes, or that the Defendant election officials engaged in any misconduct in the administration of the election" in the lawsuit, Maricopa lawyers said.
On Dec. 9, Lake sued Democrat Katie Hobbs, the current Arizona secretary of state and governor-elect, and Maricopa County after "hundreds of thousands of illegal ballots infected the election in Maricopa County."
The lawsuit asserted that long lines and printer issues adversely affected Election Day voters during the Nov. 8 election across Maricopa County. Top officials in Maricopa, including Board of Supervisors Chairman Bill Gates and Recorder Stephen Richer, confirmed in a news conference that printer problems forced some voters to place their ballots in dropboxes but later said that no voters were disenfranchised.
Lawsuit
"Lake received the greatest number of votes and is entitled to be named the winner," her lawsuit claimed (pdf). "Alternately, the election must be re-done in Maricopa County to eliminate the effects of maladminstration and illegal votes on the vote tallies reported by Maricopa County."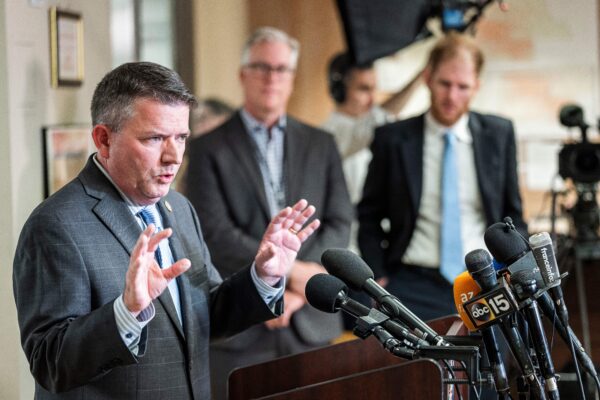 Election data shows that Lake trailed Hobbs by about 17,000 votes, or around 0.6 percentage points, before the election was certified by Hobbs and other top Arizona officials earlier this month. In Maricopa, data shows Hobbs led Lake by about 47,000 votes, or 2 percentage points.
Due to errors across Maricopa, Lake's suit asserted there were "oppressively long lines" that adversely impacted Election Day voter turnout and disproportionately prevented Republicans from going to the polls. Since the Nov. 8 race's conclusion, she's posted a number of videos on social media showing in-person voters complaining about problems they had while trying to cast their ballots in Maricopa County on Election Day.
In separate interviews after the lawsuit was submitted, Lake said she's received testimony from unnamed whistleblowers within Maricopa County's government.
"We've had three whistleblowers from Maricopa County reach out and say the system is seriously flawed," Lake told Just the News on Monday. "They were throwing out tens of thousands of signatures saying they were scribbles that in no way matched. But somewhere between there, the ballots were being completely tossed out and they got looped back into the system and counted as if they were fine."
Response
Maricopa County submitted a report (pdf) on voting errors in late November in response to Arizona's attorney general's office having demanded answers about the aforementioned problems that were announced by Gates and Richer on Nov. 8.
"In the 2022 General Election, Election Day voters waited in line an average of six minutes," the report claimed. "If you include the voters that skipped the line to drop off their early ballots, the wait-time average is below 3 minutes. Maricopa County also provided a large number of in-person voting options beginning 27 days before the election."
A lawyer for Hobbs this week told a judge that her team plans on filing a motion to dismiss Lake's lawsuit. A separate lawyer also indicated Hobbs's office will attempt to dismiss a separate lawsuit submitted by Republican secretary of state candidate Mark Finchem, who was trailing Democrat Adrian Fontes about about 5 percentage points.
"The secretary does believe that the court will be able to dispose of this case in its entirety on a motion to dismiss without the need for an evidentiary hearing," Hobbs' lawyer, Andy Gaona, said in a Maricopa County Superior Court hearing before Judge Peter Thompson, according to local media reports.
Lake's team has until 3 p.m. ET on Saturday to file a response to the motions to dismiss.