Newly elected House Speaker Kevin McCarthy (R-Calif.) said that the first bill he wants to see passed is to cut back funding for 87,000 new Internal Revenue Service (IRS) agents, following a several-day-long fight over the speaker's gavel.
"I know the night is late, but when we come back our very first bill will repeal the funding for 87,000 new IRS agents," McCarthy said early Saturday morning, moments after being nominated as speaker. McCarthy did not say exactly when the GOP-backed bill would be introduced on the House floor but said Republicans "believe government should be to help you, not go after you."
House Majority Leader Steve Scalise (R-La.) in a recent letter said there is "ready-to-go" legislation that Republicans are going to bring to the House floor during the first two weeks of 2023. The Treasury Department has estimated that in 2021, a nearly $80 billion investment in the IRS could allow the agency to hire about 86,852 full-time IRS employees over the course of a decade, not agents.
But the Republican National Committee and a number of Republican lawmakers have criticized recent funding for the IRS under the Inflation Reduction Act that passed both chambers of Congress last year. They've argued that the IRS would target Americans with more and more audits to fund large spending packages that have recently passed Congress.
Treasury Secretary Janet Yellen last year said that new funding will allow the agency to modernize and move away from antiquated computer systems, over-reliance on paper filings, and relying too much on paper mail. Meanwhile, the funding will allow the IRS to focus on the better enforcement of tax laws against corporations and wealthy Americans.
"The Inflation Reduction Act finally provides the funding to transform the IRS into a 21st century agency," Yellen said in September. "While all the improvements won't be done overnight, taxpayers can expect to feel real differences during the next filing season."
While Republicans have a majority in the House, they don't have a majority in the 51–49 Senate. Passing the measure to repeal the recent IRS funding could face roadblocks in the upper chamber, while President Joe Biden could move to veto the GOP's measure.
"As speaker of the House, my ultimate responsibility is not to my party, my conference, or even our Congress," McCarthy also said after he was voted in as speaker. "My responsibility, our responsibility, is to our country."
Other items that McCarthy said Republicans would address is the "rise of the Chinese Communist Party" and soaring national debt. "As for the Chinese Communist Party, we will create a bipartisan select committee on China to investigate how to bring back the hundreds of thousands of jobs that went to China, and then we will win this economic competition," he added.
Other Details
Before being elected, McCarthy agreed to major concessions to secure a role that is second in line to the Oval Office behind Democratic Vice President Kamala Harris, including a rule that means that any of the 435 members of the House could force a vote for his removal at any time.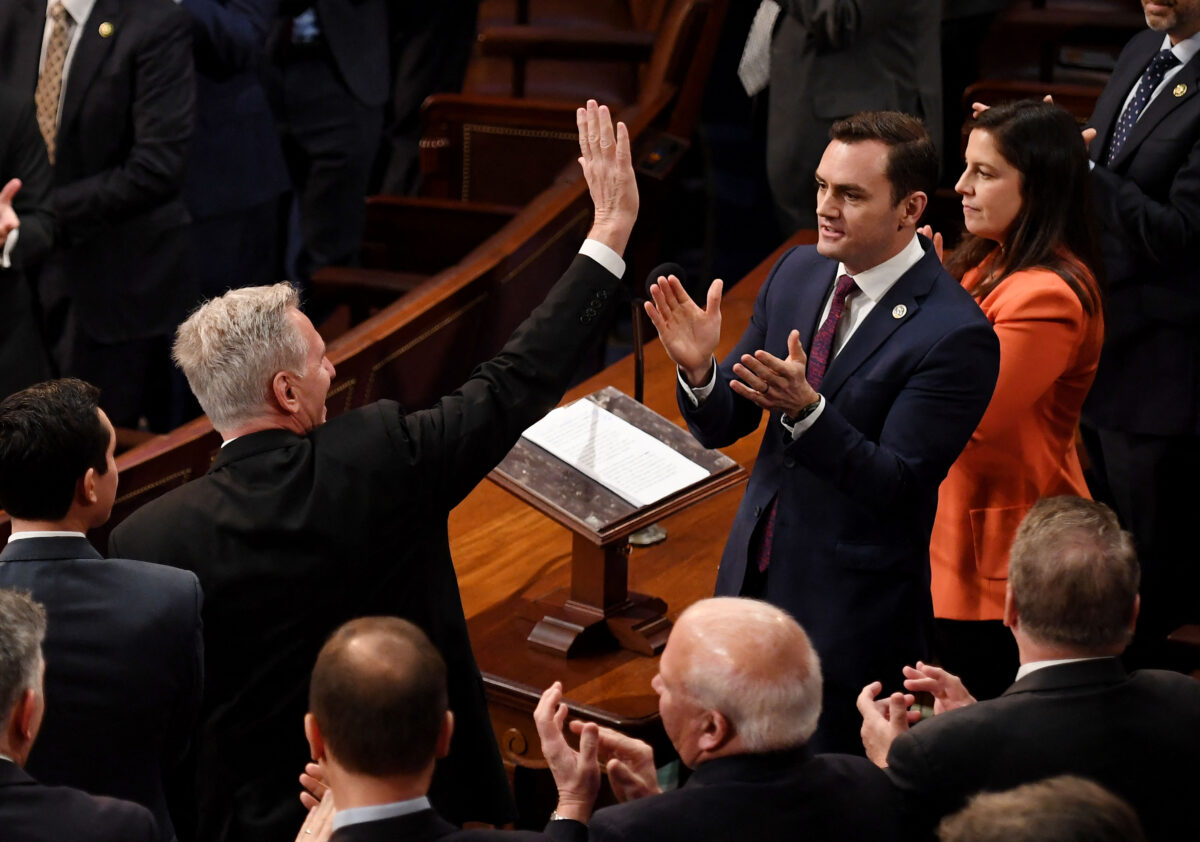 Republicans' weaker-than-expected performance in the November elections left them with a narrow 222–212 majority, giving several conservative lawmakers the chance to block McCarthy's bid. They accused him of being soft and too open to compromise with Biden and Democrats.
"We do not trust Mr. McCarthy with power, because we know who he will use it for. And we are concerned that it will not be for the American people," said Rep. Matt Gaetz (R-Fla.) last week.
However, McCarthy shrugged off claims that deals with those Republicans could weaken his power. "That gives me no problem or concern whatsoever," McCarthy told reporters, describing his deal with critics as a "very good" agreement that "empowers the members."
Throughout the vote, former President Donald Trump reportedly leaned on some of the Republican holdouts, while repeatedly saying that Republicans should back McCarthy. In response, Gaetz told Fox News: "I love President Trump, I defended him a great deal in Congress, but HR wasn't always his strong suit."
Gaetz added that several of Trump's cabinet picks, including former Attorneys General Jeff Sessions and William Barr and former Defense Secretaries Jim Mattis and Mark Esper, did not "always advance an America first policy."
Following McCarthy's victory, Trump wrote Saturday that "the Fake News Media was, believe it or not, very gracious in their reporting that I greatly helped Kevin McCarthy attain the position of Speaker of the House."
Reuters contributed to this report.