Michigan Secretary of State Candidate Kristina Karamo
Kristina Karamo, a Republican and a mother of two, decided to run for Michigan Secretary of State last year after witnessing irregularities during the 2020 election. She said securing elections are critical because they're at the forefront of everything we have.
"Unsecured elections are state and national security threat," Karamo told The Epoch Times Tuesday. "In order to protect our liberty and to maintain control over our government, we must protect our faith in who is sitting in various positions of power."
"And if we don't secure our elections, we don't have a functional Republic left."
Karamo serves as a professor at Wayne County Community College. In March 2021, she declared her run for Secretary of State, the state's top election officer.
"I was a poll challenger at the TCF center in Detroit. And I personally witnessed illegal ballots being cast. And I personally witnessed other laws being violated," said Karamo.
"I was in the TCF center for a total of 37 hours. And after leaving out, it was unreal. It's like coming out of a war zone, which I don't say that lightly."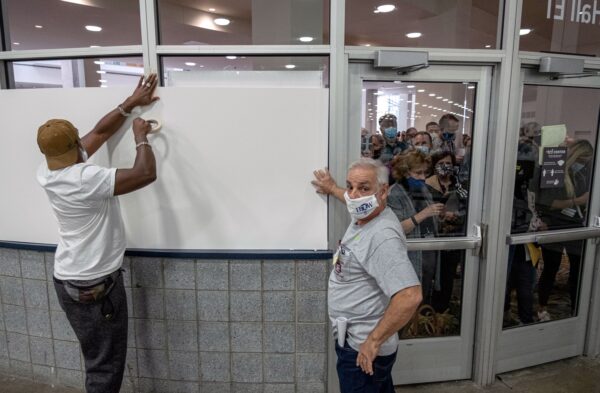 Karamo came forward and spoke up—as one of the "whistleblowers" at the time—and testified before the state senate oversight committee. But nothing happened.
"So I just decided I'm gonna run for Secretary of State because I'm not gonna sit here and just expect other people to solve issues when I know I'm competent enough to solve them myself," Karamo said.
Not just because she feels like she has the competency as an individual, Karamo explained, but also because she has competent individuals around her who can give her advice.
Her campaign website states that Karamo now leads a research team—comprised of former Secretary of State personnel—which forms the basis of her future policy team.
'Election Integrity is a Voter Rights issue'
"Election integrity is a voter rights issue because we're trying to improve and expand on voter rights to ensure that when we cast the vote, it's legally counted and not nullified by illegal ones," Karamo said.
Currently, Democrats and Republicans have polarized views on how to administer an election. For example, Republicans deem voter ID requirements essential for election integrity; Democrats think that would disproportionally burden certain voters, thus suppressing voter rights.
Karamo said voter ID should be required.
"We need to have voter IDs—too critical to our election system," Karamo said. "When you're dealing with a secure system, we always have to err on the side of security, not err on the side of people will do the right thing. So we must have voter ID."
In Michigan, even though voter ID is required, voters can still cast a ballot without a voter ID—as long as they sign an affidavit attesting that a photo ID is not with them—and the ballot "will be counted with all other ballots on Election Day."
Karamo said even with the regulation in place, the Secretary of State still has broad latitude to minimize the problems.
"When issues are challenging, there are so many administrative liberties that the Secretary of State has to overwhelm those legislative challenges to where they minimize some of the problems," Karamo said.
For example, the Secretary of State could investigate and ensure those voters without voter IDs are who they say they are, said Karamo.
Another concern is the same-day registration, said Karamo.
"One of the biggest problems we have is same-day registration, that has to go away," Karamo said.
"We've done over 150 events in the campaigns. I've talked to lots of clerks. And same-day voter registration is a total nightmare," Karamo said, noting that there's no waiting period to verify the person is a legal voter, and it's hard to prevent fraud.
She also wouldn't allow private money, like Mark Zuckerberg's money, to be used in Michigan elections if she elected, Karamo said.
"Because what'll happen is, you'll have a private group tell a clerk or municipality—if you do this, I'll give you X amount of dollars," Karamo said. "You ask for corruption. You're asking for it. So that is something that I just would not allow."
Karamo criticized current Secretary of State Jocelyn Benson for "corrupting" the election system.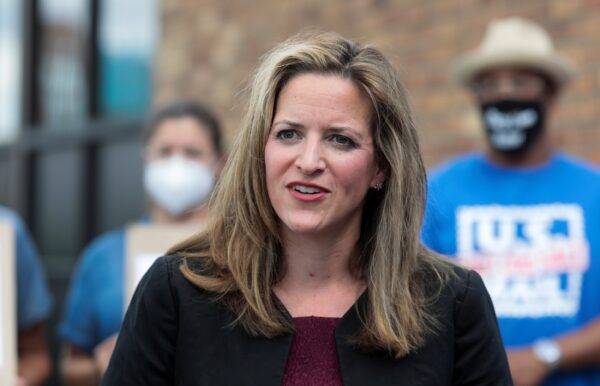 She said Benson did nothing about the election irregularities in the 2020 election, such as people receiving absentee ballots in dead relative's name, stopping the count of ballots in the middle of the night, accepting and funneling Zuckerberg's money to Democrat counties, etc.
"And then after the election, she claimed that she claimed that she conducted an audit and she lied because she is guilty of the sin of lying through omission," Karamo said. "She purposely left out the fact that she opted for a weaker audit. She did not even follow her own post-election audit manual."
Liz Boyd, spokeswoman for the Benson for Secretary of State Committee, responded to The Epoch Times via email that in 2020 Benson "presided over the most secure election in Michigan history that saw record turnout even during a pandemic."
"This has been confirmed by hundreds of audits and the Republican-led Senate Oversight Committee, which found no evidence of fraud in the 2020 election. Local election officials on both sides of the aisle have credited Secretary Benson with implementing programs that have made it possible for every voter—no matter who they vote for—to cast their ballots in a safe and efficient manner," Boyd added.
Benson hasn't announced her reelection race yet but is expected to run. Last November, Benson's campaign had a total of over $1 million in hand after expenses, compared to Karamo's $116,000, according to financial data on Michigan candidates.
Karamo said she's not worried about that because Benson is the incumbent and is expected to lead in campaign funds. And a lot of people are not ready to donate before the primary season.
"I'm the challenger. Therefore I have an uphill battle, and I know we'll be victorious."
In Michigan, Republican and Democratic Parties hold endorsement conventions instead of primaries to determine nominees for secretary of state, attorney general, and state supreme court. The GOP convention is scheduled to be on April 23, four months earlier than usual.
Other Republican candidates for secretary of state are two township clerks, Cindy Berry and Cathleen Postmus, and a Michigan House of Representatives member, Beau LaFave.
Last September, former President Donald Trump endorsed Karamo.
'Fight for Every Michigander Irrespective of Political Affiliation'
"I'm determined to fight for every Michigander irrespective of political affiliation," Karamo said.
"This should not be a partisan issue. This is an American issue. This is the issue of voter rights."
Karamo said if a group of Democrats came forward alleging Republicans engaging in election fraud, as the Secretary of State, she would investigate that as well. She won't ignore it because election fraud is a form of voter suppression. It's a voter rights issue.
Karamo encouraged people to get involved as early as in the primary season.
"The primaries are important. The primaries are the opportunity when you get to pick competent people to run in the general, but too often in the general people are kind of feel as though they're stuck with the lesser of two evils," Karamo said.
"America is a republic that can totally be saved. But it requires all of us to be involved and fight back," Karamo added. "So I encourage people to get involved."
Trustworthiness is one of the qualities she has, Karamo said.
"I'm a woman of my word. I fear God above everything else," Karamo continued.
"When you realize that at the end of the day, you answer to somebody else for the choices you make—somebody greater than yourself—you function a lot differently in life, in decisions you make."