Minimum Wage in California Increased to $20 an Hour: Fast Food Workers Overjoyed and Tearful
Fast food workers in California will receive a minimum wage of $20 (£16.36) from next year.
It is set to become the highest guaranteed base salary in the industry – and the current minimum hourly rate of $15.50 (£12.68) was already one of the biggest in the country.
By comparison, a typical fast food worker in the US made $13.43 (£10.99) an hour last year.
Democratic Governor Gavin Newsom signed the law surrounded by cheering workers, and dismissed assumptions that fast food jobs are meant for teenagers looking for experience.
"That's a romanticised version of a world that doesn't exist," he said. "We have the opportunity to reward that contribution, reward that sacrifice and stabilise an industry."
The new minimum wage comes into effect from April and applies to restaurants with at least 60 locations nationwide.
On a full-time basis, this would equate to a yearly salary of $41,600 (£34,000) – with 550,000 people working at 30,000 fast food outlets across the state.
A new council is also being established that will be able to increase this hourly rate by a maximum of 3.5% every year between now and 2029.
Read more US news:
$1.6bn lottery jackpot claimed
Bad news for 'emotional support' alligator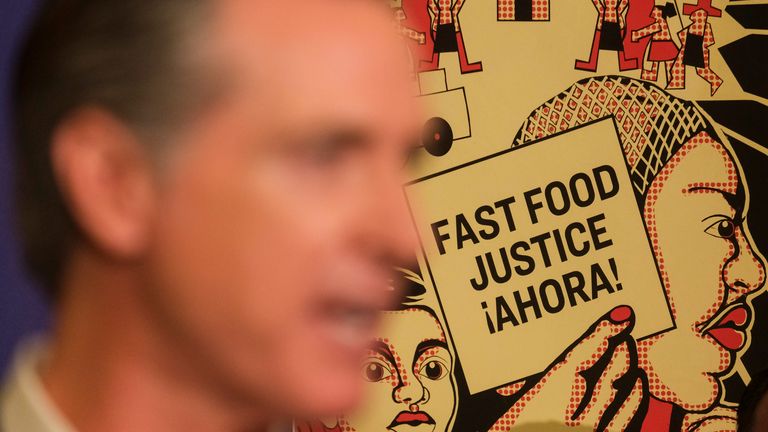 Politicians in California are now setting their sights on other industries, and have passed a bill that would gradually increase the minimum wage for healthcare workers to $25 (£20.46) an hour.
In other sectors, the federal minimum wage has been unchanged at $7.25 (£5.93) an hour since 2009 – that's $15,080 (£12,340) a year for someone who works 40 hours a week.