Missouri Attorney General Eric Schmitt Enters US Senate Race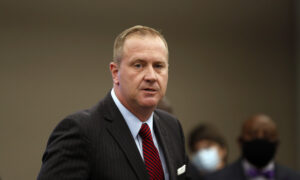 Missouri Attorney General Eric Schmitt on March 24 launched his campaign for the U.S. Senate, looking to replace retiring Sen. Roy Blunt (R-Mo.).
The 45-year-old attorney general announced his intention to run on Fox News two days after former Missouri Gov. Eric Greitens, a Republican, announced his bid for the same seat.
"Washington DC needs more fighters. Fighters who want to save America. That's why I'm running for the United States Senate," Schmitt, also a Republican, wrote on Twitter on Wednesday.
"Increasingly, it feels like our culture and our country [are] slipping away and all the levers of power right now in Washington, D.C. are tilted towards the Democrats," Schmitt told Fox and Friends.
"As the attorney general, I've spent my time defending President Donald Trump and the America First agenda and all the prosperity that came with that: secure borders, energy independence, more opportunities for more Americans," Schmitt continued. "And now I'm spending my time pushing back against Joe Biden as he tries to dismantle that."
Both Greitens and Schmitt are positioning themselves for an endorsement by former President Donald Trump, which is arguably the biggest boost for any Republican in a primary contest.
Schmitt is backed by Missouri mega-donor Rex Sinquefield.
Greitens was a rising Republican star before resigning amid impeachment proceedings tied to an accusation arising from an extramarital affair and a charge related to his use of a donor list from his charity for political fundraising. Both charges were dropped after he resigned.
Greitens, who is now divorced but was married at the time, admitted to the affair but denied wrongdoing in both cases.
Schmitt in his announcement alluded to the threat of Republicans losing the Senate seat if Greitens wins the GOP nomination, saying Missouri needs "a leader who can hold this Senate seat in firm Republican hands without giving Democrats any chance to take this seat back."
Voters first elected Schmitt to the state Senate in 2008 to represent a suburban St. Louis district. He was elected state treasurer in 2016, then took over as the state attorney general after Josh Hawley vacated the seat to join the U.S. Senate in 2019. He won another term as attorney general in 2020.
As attorney general, Schmitt joined the Trump-backed Texas Supreme Court case challenging the validity of the 2020 presidential election. The Supreme Court refused to take up the case. He also sued the Chinese Communist Party (CCP) on April 21, 2020, alleging that it abetted the spread of the CCP virus, commonly known as the novel coronavirus.
The Associated Press contributed to this report.