Mother of Toddler Quinton Simon Indicted on 19 Charges After 2-Year-Old's Remains Found in Landfill
District Attorney Shalena Cook Jones announced on Wednesday that the mother of murdered toddler Quinton Simon, Leilani Simon, has been indicted on 19 charges, including murder, a month after the toddler's remains were found in a landfill in Georgia.
Jones said the counts include one count of malice murder for the intentional killing of Quinton, two counts of felony murder, one count of concealing the death of another, one count of falsely reporting a crime, and 14 counts of making false statements to authorities during the investigation.
"As your district attorney, I realize that this matter is really important to our community and also to the inquiring minds both here and beyond our community that want to know what happened to baby Quinton and how it happened," Jones said in a press conference on Wednesday.
"That curiosity is not lost on me, however, there's more evidence that may be revealed during the course of this investigation and I say that to remind you all that this is an ongoing criminal investigation," she added.
Remains Found in Landfill
Quinton was reported missing by his mother, Leilani Simon, 22, on Oct. 5, prompting a large-scale search that included search dogs, a helicopter, and heat-seeking technology. Multiple FBI agents and police worked up to 20 hours a day in the hopes of finding the toddler.
Leilani Simon was arrested last month and charged by police after they found the 20-month-old's remains in a local landfill. Authorities had named her as the primary suspect in the case.
According to the FBI Atlanta, the agency's laboratory division had confirmed through DNA analysis that the bones found in the landfill belonged to the toddler.
Officers had to sort through 1.2 million pounds of trash at the landfill to find the bones.
"This is a heartbreaking development," Jeffrey Hadley, the police chief in Chatham County, told reporters at a news conference shortly after the bones were discovered.
"From the beginning, we were hopeful we would find him alive and unharmed. But evidence has always pointed to the mother and we believe his remains were found in the landfill," he added.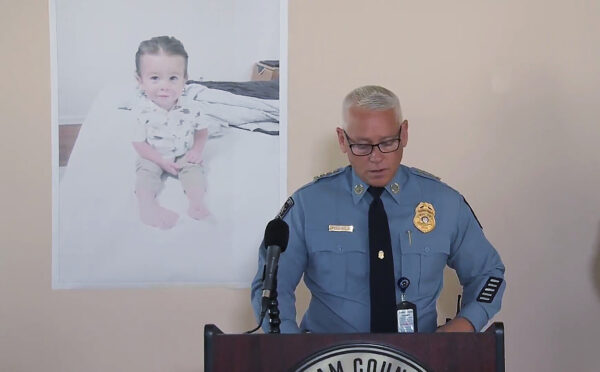 According to an incitement obtained by WSAV, the grand jury alleges that Simon assaulted her son with an unknown object that caused "cruel and excessive pain," and led to his death.
She then allegedly left her home early on Oct. 5 to dispose of his body in a dumpster at the Azalea Mobile Home Plaza. The day prior, she had allegedly gone to meet her drug dealer, according to the grand jury.
The indictment also accused Leilani of falsely telling authorities that she was just throwing away "normal household garbage," and not her son's body.
Law enforcement have not yet said how they believe Quinton was murdered or whether there was a motive for his death.
During Wednesday's press conference, District Attorney Jones vowed that her office would ensure adequate resources were devoted to the case of the murdered toddler and that the case would be "properly handled from beginning to end."
"We all know that justice takes time but it should be swift and sure and fair," Jones said.
Elsewhere, Quinton Simon's grandmother, Billie Jo Howell, who reportedly had custody of Quinton at the time of his disappearance, was arrested this week on separate charges unrelated to his death, according to local ABC affiliate station WJCL.
Howell, who goes by the last name of Betterton, was detained on a charge of contempt of court and booked into Chatham County jail Monday, according to the publication, and was reportedly put into a suicide-prevention smock.