Nassau County Executive Blakeman Organising Guns to Send to Ukraine
FRANKLIN SQUARE, New York—Nassau County Executive Bruce Blakeman kicked off his guns-for-Ukraine donation initiative at SP Firearms in Franklin Square, New York, on March 3.
The plan will go through to March 7 and owners of legal weapons may donate them at the gun store.
Only long firearms (rifles, shotguns, AR-15s, or a derivative of one) which are unloaded and in working condition will be accepted.
Another option is for supporters to purchase a weapon at the store. All donated weapons will be shipped to Ukraine.
Blakeman, a Republican, said what's happening in Ukraine "makes us motivated to do something and not just sit on our sofa and let things unfold without us taking part in what is clearly a struggle between good and evil."
"There are people that will scoff at what we're doing here today," Blakeman said. "Well, I want you to think about the French Resistance in World War II, where citizens took up arms against the Nazis," he said.
Blakeman also cited the Warsaw Uprising in Poland.
"We can't help but think about how this is so similar to 1939 when the Nazis invaded Poland but nobody stopped them," he said. "Nobody gave the Polish people the weapons to defend themselves."
Blakeman donated the first gun in the program when he purchased a Zastava M-70 assault rifle for about $2,000.
Misha Migdal of the Ukrainian-American Chamber of Commerce purchased an assault rifle as well.
"I'm in contact with people in Ukraine pretty much every other minute," the Ukrainian native told The Epoch Times.
"They're fighting. They want to be free. They don't want to be under the Soviets, under the Russians, they want to be part of a free world.
"All they're asking right now is just 'help us to protect ourselves, to defend our country.' Nothing else."
Migdal spoke about Ukrainian President Volodymyr Zelensky.
"He's a hero," Midgal said. "He's a humble guy. A humble guy that loves his country, has the tremendous support of his own people, and now finally has respect from all the world leaders.
"I just hope they help him to defend his country and be safe and alive."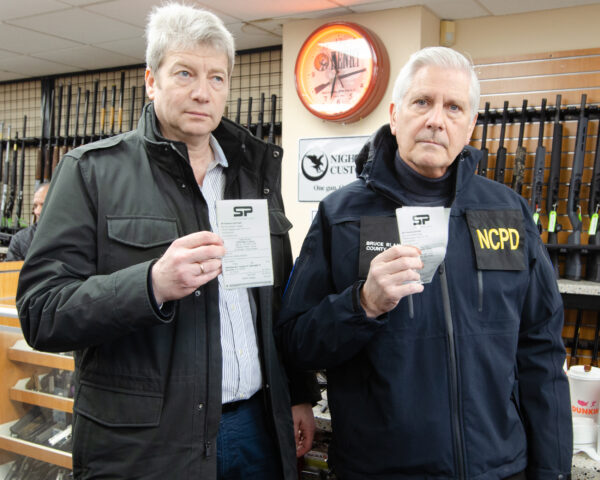 Blakeman is hoping Nassau County will inspire a national movement.
"We are doing a small part here," he said. "But if we do this across the United States, this can be something that is of tremendous help to the people of Ukraine. To the peace-loving people of Ukraine."
Once the guns are collected, getting them to Ukraine is a big hurdle. The transport and delivery of them are in the hands of the federal government, although no taxpayer money will be spent on the effort.
"The only way they can be transferred is to a federally approved, licensed distributor in a foreign country," Blakeman said. "It's a long process to get that done. So that's why we're asking for help from the federal government."
Should the weapons not find their way to Ukraine, they'll be returned to the donors.
"I think the only problem is going to be we're going to get a lot of stuff that we can't use," Jerry Sperduto, owner of SP Firearms, told The Epoch Times. An example of this would be a gun that doesn't have readily available ammunition.
Navy veteran Brian Valenza of the Long Island Chaplin Task Force collected $25,000 in donations for the Ukraine Defense Fund.
"President Zelensky … has been begging for weapons, begging for help," Blakeman said. "How can we sit by silently and not do our part?"