New York Attorney General Letitia James to Host 'Drag Story Hour' for Children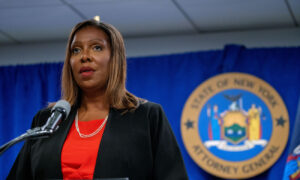 New York's top law enforcement official is set to host a "Drag Story Hour" event for little kids in the heart of the Manhattan borough of New York City over the weekend.
New York Attorney General Letitia James, a Democrat, plans on proceeding with the controversial event, despite accusations that it encourages the sexualization of children with graphic themes.
"My office is proud to host a Drag Story Hour read-a-thon on Sunday, March 19 from 11AM-3PM," James declared in an Instagram post.
The post invited families with kids "to join Attorney General James, Drag storytellers, and city and state elected leaders" at the event.
Drag Story Hour NYC, a nonprofit and the primary sponsor of the event, has been given over $200,000 in taxpayers funds allowing the organization to send drag queens into public schools and libraries to interact with children as young as 3 years old, the New York Post reported.
Other entities co-sponsoring the event include the Pride Center of Staten Island, Destination Tomorrow, the Brooklyn Public Library, the Queens Public Library, and the New York Public Library.
The reading will be held at The Center (the Lesbian, Gay, Bisexual & Transgender Community Center) in the West Village. An Eventbrite post selling tickets to the event was sold out as of March 15.
James and several Democrat lawmakers are scheduled to attend, including city council members Crystal Hudson, Chi Ossé, Erik Bottcher, Tiffany Caban, Shekar Krishnan, and Lynn Schulman; state Assembly members Daniel O'Donnell, Deborah Glick, Jessica Gonzalez-Rojas, and Tony Simone; and state Sen. Brad Hoylman-Sigal.
New York City's Democrat Mayor Eric Adams has also been a major supporter of drag queens entertaining children.
Opposition Growing to Children's Drag Programs
Drag queen story hours for kids have been spreading nationwide at public education venues and have been performed in New York City since 2017.
However, these events have been drawing backlash with protests and counterprotests, even in New York City.
In December, New York City police officers were forced to intervene when a protest turned into a riot between opposing sides outside a library in Jackson Heights in the borough of Queens, where a drag queen story reading was being held.
Many Republican-led states are banning these events altogether.
James announced the event around the same time Florida Gov. Ron DeSantis moved to revoke the Hyatt Regency Miami's liquor license for exposing children to "sexually explicit content" during a Christmas-themed drag show at the end of 2022.
Arkansas Gov. Sarah Huckabee Sanders announced that she would move to prohibit drag shows from taking place on public property in the state, which she says will protect children from being exposed to "sexually explicit drag shows."