New York Attorney General's Office Has Fallen Victim to the 'Unscientific and Unsupported Narratives' on Ivermectin
A lawyer representing the Front Line Covid Critical Care (FLCCC) Association claims that the office of New York Attorney General (AG) Letitia James has become a victim to the "unscientific and unsupported narratives" perpetuated by the media and regulators about the effectiveness of ivermectin as an early treatment for COVID-19.
"Rather than looking at the full spectrum of available data, ivermectin has become a proxy in the debate over pandemic measures and a large body of excellent work has been ignored for unsound reasons," Alan Dumoff, a health care attorney, wrote in a letter to James on Jan.3 (pdf).
"Like so many others, we believe your Office has fallen victim to these unscientific and unsupported narratives," he said.
Dumoff was responding to James' warning letters to physicians associated with the FLCCC, ordering them to stop prescribing ivermectin to New York residents.
In November 2021, James sent out letters to 41 physicians—the majority of whom were from out-of-state—advertising telehealth services and prescribing ivermectin and other medications in the FLCCC Alliance's treatment protocol for COVID-19.
"You are hereby advised to immediately cease and desist from 1) prescribing ivermectin to residents of New York State and 2) advertising on FLCCC as a provider who will prescribe ivermectin," James wrote in her letter, obtained by The Epoch Times.
"These misleading claims about ivermectin violate New York's consumer protection statutes … which prohibit fraudulent and deceptive business practices and false advertising," James added.
For doctors who fail to comply with the directive, the AG threatened to take legal action to "enjoin any deceptive acts and practices, and to seek restitution, damages, and penalties of up to $5,000 per violation."
FLCCC Alliance says that some physicians have asked to be removed from its website, or "have their listings amended to exclude the provision of services to New York residents," upon receiving the AG's letter.
The Epoch Times reached out to James for comment regarding Dumoff's claim, but was told in an email to "feel free to pull them [quotes] directly from the letters."
Not FDA Approved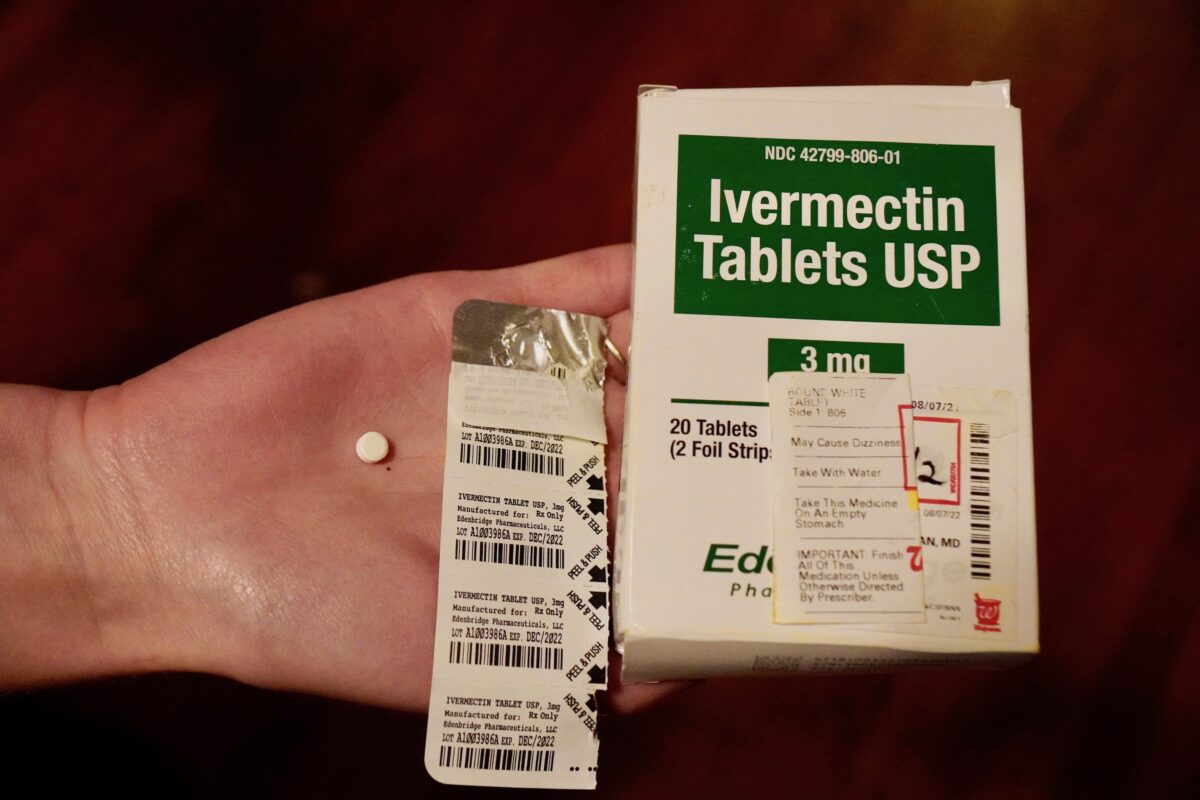 James' argument for issuing her letters is that the Food and Drug Administration (FDA) does not approve or authorize ivermectin to treat or prevent COVID-19.
The FDA initially approved ivermectin in 1981 as a veterinary product to prevent heartworm in dogs and cats and to treat certain parasitic diseases in some animals like horses and cattle. More than a decade later, the FDA approved it for human use in 1996 to treat a variety of parasitic diseases such as scabies, river blindness, and elephantiasis. However, the drug had already been given globally for the treatment of river blindness in 1987 when the French regulatory agency approved its usage in humans.
Dumoff says that James' cease and desist letters are based on the claim that the drug isn't approved by the FDA to treat COVID-19 are "neither legal nor historically grounded."
Physicians have the authority to prescribe medications to treat a condition other than what they were initially federally approved for, known as off-label prescribing. Prescribing FDA-approved drugs off-label is a common practice in the medical and veterinarian community.
"But off-label uses of approved drugs are extremely common in medicine and, by itself, provide no basis for an order to cease-and-desist either prescribing or advertising," Dumoff wrote. "It is well-settled law that while manufacturers and distributors have limits on speech for off-label claims, that limitation does not apply to physicians."
Dumoff added that there was no basis for the FDA's position on ivermectin and can't be relied upon since the health regulator "has never conducted any formal review of the evidence nor published any guidance for comment about ivermectin's use in COVID-19."
"The source for FDA's position comes from a consumer-facing page that was developed in response to a concern we share for the use of veterinary forms, as well as other allegedly reported safety concerns I address below," Dumoff said.
"The FDA took it upon itself to issue a broader warning, but until a short time ago the FDA page acknowledged that 'FDA has not reviewed data to support use of ivermectin in COVID-19 patients to treat or prevent COVID-19 …' While this statement curiously has been removed from the FDA website, it remains true."
The FDA updated its website on Dec. 10, 2021, which no longer includes the sentence about not having reviewed the data. The FDA now only mentions that "one of the FDA's jobs is to carefully evaluate the scientific data on a drug to be sure that it is both safe and effective for a particular use" without further clarifying if it has done so for ivermectin.
In an email to The Epoch Times, an FDA spokesperson said that "to date, published clinical trials have shown mixed results" and that "while FDA-approved products may be prescribed by physicians for unapproved uses if they determine it is appropriate for treating their patients, including during COVID-19, the safety and efficacy of ivermectin for the prevention or treatment of COVID-19 has not been established."
NIH Guidance on Ivermectin
James also stated in her letter that the National Institutes of Health (NIH) "has determined that there is insufficient data" to recommend ivermectin for COVID-19.
The NIH initially put out guidance in 2020 that there was not enough evidence to recommend the drug as a treatment for COVID-19. But the federal agency changed its stance in January 2021 (pdf), announcing that there is insufficient evidence "to recommend for or against the use of ivermectin for the treatment of COVID-19."
The change followed after two of FLCCC's cofounders and Dr. Andrew Hill, a researcher, and consultant to the World Health Organization (WHO), presented their data and findings to the NIH's COVID-19 Treatment Guidelines Panel.
"Particularly given the dearth of standard of care options in treating a novel coronavirus, such a neutral finding by the NIH historically places ivermectin's use squarely within the reasonable judgment of the physician," Dumoff said.
Safety and Efficacy
The safety and efficacy of ivermectin as a COVID-19 therapeutic was also addressed in James' letters.
"Your inclusion on the FLCCC website as a provider of ivermectin may mislead consumers as to the effectiveness of ivermectin in preventing and treating COVID-19, as well as provide physician endorsement and/or approval," James said. "Adverse effects associated with ivermectin misuse are already increasing, as shown by a rise in calls to poison control centers reporting overdoses and adverse effects."
Proponents of ivermectin say that it has a high safety profile, with more than 4 billion doses administered around the world since it was initially approved for human consumption in 1987. The drug is also on the WHO's list of essential medicines.
According to the WHO, "essential medicines are those that satisfy the priority health care needs of a population" and "are selected with due regard to disease prevalence and public health relevance, evidence of efficacy and safety and comparative cost-effectiveness."
Dumoff claims that one of the often-repeated "highly politicized drumbeat" is that "there are no scientific studies that show ivermectin is safe or effective" in treating COVID-19.
"This is flatly inaccurate as there has long been a substantial body of completed research including peer-reviewed meta-analyses: presently, there are over 71 trials including at least 31 randomized controlled trials showing significant benefit," Dumoff said. "Currently, over 50,000 patients have been included as study subjects with the overall signal of benefit in important clinical outcomes strongly positive with tight confidence intervals."
And while poison control centers across the country have reported an increase in the numbers of calls for exposure to ivermectin in 2021, the total numbers of exposures were still lower than to hand sanitizers and cleaning products.
There were a total of 594 ivermectin exposure cases reported in 2019, 650 cases in 2020, and 2,337 cases in 2021 (pdf). The significant rise in 2021 was due to many people ingesting the animal version of the drug that is more concentrated than the tablets for human consumption. No deaths were reported.
In August 2021, the Mississippi State Department of Health sent out a health alert of increased calls to the state's poison control center of possible ivermectin exposure. The alert (pdf) clarified that "of the 14 recent ivermectin-related calls received by the Mississippi Poison Control Center, at least 70 [percent] were related to the ingestion of livestock or animal formulations of ivermectin purchased at livestock supply centers."
FLCCC Alliance says it does not recommend ivermectin formulations for animals in the treatment of COVID-19.
Reports of human exposure to hand sanitizers (pdf) and cleaning products (pdf) also saw an increase in 2021, where many of the cases occurred in children ages 0 to 5. Ivermectin cases were mostly reported in adults aged 40 to 79. No deaths were reported for exposure to hand sanitizers and cleaning products.