New York Education Department Promotes Sexually Explicit Book for National Reading Event
The New York State Education Department (NYSED) promoted on social media a graphic novel that contains illustrations of teenage boys performing oral sex, only to remove the post and claim to be unaware of the book's explicit sexual contents.
In a series of posts on Tuesday, the NYSED celebrated this year's "Read Across America," a reading event championed by National Education Association, the largest teachers' union in the United States. One of the posts featured New York State Librarian Lauren Moore, who recommended to young readers the 2019 book "Gender Queer: A Memoir."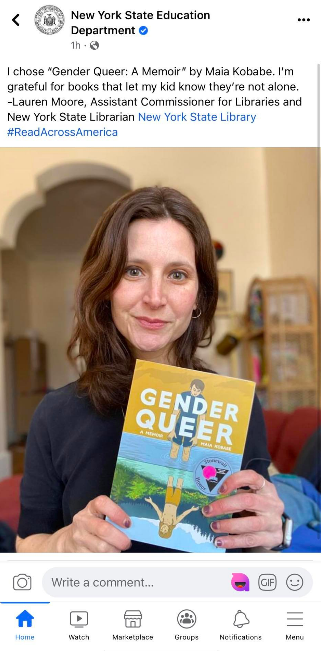 "I chose 'Gender Queer: A Memoir' by Maia Kobabe. I'm grateful for books that let my kid know they're not alone," read the now-deleted post, quoting the Albany librarian.
Created by Maia Kobabe, a California-based cartoonist who uses e/em/eir pronouns, "Gender Queer" has sparked widespread controversy over the past months in several states such as Florida, Texas, and Virginia, where parents expressed concerns over the the book's graphic depictions of adolescent sex activities and demanded its removal from school libraries.
In October 2021, Virginia-based conservative advocacy group Independent Women's Voice produced a TV advertisement containing oral sex scenes from "Gender Queer" in an effort to raise awareness among parents. The ad had been rejected as too explicit to run during late-night hours, with some Virginia stations unwilling to broadcast even with the images blurred. Those who tried to share images from the book to Facebook or Instagram also found their posts flagged for violating policies against pornography.
Instagram agrees that the groomer book in our kids' schools is pornographic. pic.twitter.com/33Oi3aquxd

— James Lindsay, wants to liberate New Zealand (@ConceptualJames) October 30, 2021
Shortly after that, NYSED deleted the "Gender Queer" posts from its Facebook and other social media accounts. The department now says that it wasn't aware of the explicit materials after apparently judging the book by its cover.
"SED was not aware of the graphic nature of the contents of the book, which is not apparent from its title," the department said in a statement. "Once we became aware, we immediately removed the post. SED is investigating the circumstances under which this title was selected and posted."
However, this is not the first time New York librarians promoted "Gender Queer." In a 2020 article, the New York Public Library praised the book as an "intensely cathartic autobiography" that charts the non-binary author's journey of self-identity, which includes "the mortification and confusion of adolescent crushes, grappling with how to come out to family and society, bonding with friends over erotic gay fanfiction, and facing the trauma and fundamental violation of pap smears."
"Started as a way to explain to their family what it means to be nonbinary and asexual, Gender Queer is more than a personal story: it is a useful and touching guide on gender identity—what it means and how to think about it—for advocates, friends, and humans everywhere," the article read.