Newly-Elected Orange County Supervisor Katrina Foley Takes Oath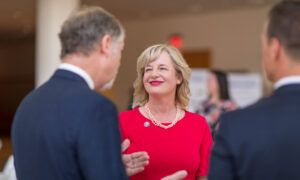 Orange County's newest Supervisor Katrina Foley was all smiles March 26 as she took the oath of office, representing the second district, during a live-streamed ceremony.
Foley won the board of supervisors seat in March during special election to replace former supervisor Michelle Steel, who was elected to Congress last November.
"What will we be doing in the next 100 days?  We will be vaccinating Orange County," Foley said during her swearing-in ceremony. "Only if we get our vaccines out can we get back to work and living our best lives."
Other top priorities for the new supervisor include tackling homelessness, mitigating food insecurity, improving veteran's services, reforming the criminal justice department, enhancing workforce relations, providing more transparency and establishing a climate action sustainability committee.
She also said her office will be assisting the hospitality industry as it recovers. To that end, she announced a partnership with Project Independence. The Costa Mesa-based non-profit "promotes civil rights for people with developmental disabilities through services which expand independence and choice," according to its website.
As well, Foley said she plans to help create a "cohesive climate action plan" for Orange County.
"We need to make plans for the future to protect the environment including working with John Wayne Airport towards cleaner, quieter skies."
Foley won the non-partisan seat with 43.77 percent of votes in a race that included Republican candidates former Senator John Moorlach (31.46 percent), Newport Beach Councilman Kevin Muldoon (11.46 percent), Fountain Valley Mayor Michael Vo (8.95 percent), and Democrat candidate Janet Rappaport, an attorney from Corona del Mar.
The second district encompasses the cities of Costa Mesa, Cypress, Huntington Beach, La Palma, Los Alamitos, Newport Beach, Seal Beach, Stanton, as well as the unincorporated area of Rossmoor, and portions of Buena Park and Fountain Valley.