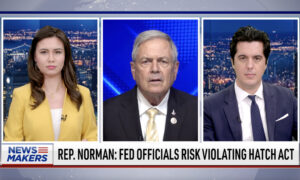 Newsmakers—a collaboration between NTD and The Epoch Times—covers the most important stories of the day with trusted and groundbreaking perspectives. Watch leading reporters and newsmakers break and discuss the latest news as well as its impact on our world.
Newsmakers is a weekly primetime show airing every Wednesday from 7:00 to 8:00 p.m. ET.
In this episode, we hear from Marc Ruskin—a retired FBI Special Agent with over 20 years of experience working in undercover operations on the Durham trial; Rep. Ralph Norman (R-S.C.) on Biden's students' loan forgiveness; Steve Moore, the co-founder of the Committee to Unleash Prosperity on economy and inflation; and Michigan state Senator Ruth Johnson on election integrity.
Marc Ruskin, Ret. FBI Agent on the Durham trial

Rep. Norman demanding answers from the DOJ

Steve Moore on what's next for the economy 

Michigan state Sen. Johnson on election integrity