Instead of letting the California Legislature decide whether to impose a profit cap on oil companies, California Gov. Gavin Newsom announced March 16 a proposal to give the state's Energy Commission—made up of the governor's appointees—the ability to do so.
The proposed change came after lawmakers from both sides of the aisle voiced skepticism in a special meeting in late February about the governor's plan to penalize the oil industry for windfall profits. Industry and energy experts also told legislators during the meeting the penalty, or any additional taxes, could drive up the cost of fuel even more.
The new proposal also calls for creating a watchdog division at the Energy Commission that would be staffed by market experts, economists, and investigators, with subpoena power to investigate the oil industry's sales and pricing activities. The division could also refer violations to the Attorney General's Office for prosecution, according to Newsom's office.
"What we're asking for is simple: transparency and accountability to drive the oil industry out of the shadows," Newsom said in a March 16 press release. "Now it's time to choose whether to stand with California families or with Big Oil in our fight to make them play by the rules."
The Western States Petroleum Association told The Epoch Times the new proposal still does not address ongoing supply challenges that leading experts have identified as the main driver of increased costs.
"[E]mpowering unelected bureaucrats and giving them the authority to tax and penalize refiners will likely lead to the same unintended consequences as his initial proposal—less investment, less supply, and higher costs for Californians," the association's spokesman Kevin Slagle said. "That is exactly why the [L]egislature rejected his initial proposal."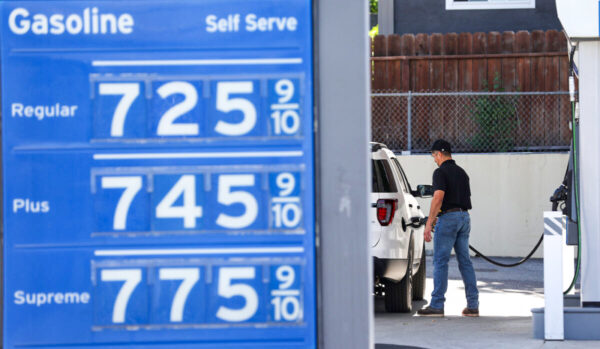 Newsom has repeatedly blasted the oil companies for "ripping Californians off" beginning last year as the state's average gas prices reached $6.42 per gallon last October, a record $2.61 more than the national average.
Oil companies reported record profits following the high prices, which the governor asked the Legislature to investigate last December during a special legislative session where he unveiled the penalty proposal.
Instead of implementing new fees, Republicans have called on Newsom to take steps to reduce gas prices by delaying the state's yearly transition to a costly emissions-reducing summer-blend gasoline and stopping a planned gas tax hike set for July 1.
"California drivers pay more than they should because of the taxes, fees and regulations imposed by Governor Newsom and his extreme liberal allies," Assembly Republican leader James Gallagher of Yuba City told The Epoch Times in an emailed statement. "If Democrats give unelected bureaucrats the authority to impose this new tax, they will be responsible for the shortages, rationing, gas lines and price spikes that come with it."