Nixon Library Honors Military Heroes in Annual Decorating of Christmas Tree Ceremony
The Richard Nixon Library and Museum hosted its 12th annual "Hometown Heroes" ceremony Dec. 4, where ornaments with personalized dog tags honoring fallen service members were hung on its Christmas tree.
Kathleen York, of Twin Peaks, CA, attended to honor her late son-in-law, U.S. Navy Chief Petty Officer Patrick Lee Wade, who was deployed in Iraq in 2007 at the time of his death when explosives were detonated underneath his vehicle. He was survived by his wife and two daughters, the youngest was just nine months old when he died.
"He was a man of a lot of action and not a lot of words," York told The Epoch Times. "After 15 years, it still doesn't get any easier. We miss him every day."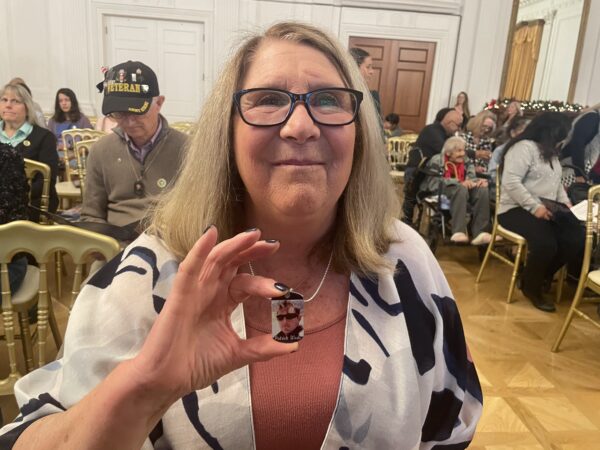 Korean war veteran Norm Abbod led the ceremony's invocation. Having served as a chaplain on a Navy destroyer throughout the Pacific during the Korean War, the 89-year-old vet was reminded of the importance of military families being honored.
"Freedom has never been free. It comes with the cost of life and blood," Abbod said to the crowd of about 120. "The true strength of our armed forces is found in the love, support, and unity of our nation's military families."
This year's ornament was a White House decorated like a gingerbread house, in honor of First Lady Pat Nixon's tradition of gingerbread displays during her days in the White House. Each included an engraved dog tag with the soldier's name, military branch, and year of death.
Yorba Linda City Council members Tara Campbell, Peggy Huang, and Mayor Pro Tem Gene Hernandez assisted in handing out the ornaments before families hung them in remembrance on this year's tree.
Also honored was an unknown American soldier buried during World War I. Second Battalion Fifth Marines in attendance wore commemorative green rope military awards on their shoulders in his honor.