Novak Djokovic, the world's top-ranked tennis player, will not be competing in the Miami Open due to his unvaccinated status, tournament director James Blake confirmed on Friday.
Djokovic, 35, was unable to secure an exemption that would allow him to enter the United States as the country currently bars foreigners from entry if they haven't received a COVID-19 jab.
Blake said the tournament officials had done everything in their power to secure Djokovic's participation, but the decision was ultimately out of their hands.
"Obviously, we run one of the premier tournaments in the world. We'd like to have the best players that can play," Blake told Tennis Channel.
"We did all that we could; tried to talk to the government. But that's out of our hands. We tried, and he was not able to play."
The tennis star had asked U.S. authorities in February for special permission to play at several tournaments in the United States, including the BNP Paribas Open in Indian Wells, California, which was scheduled to begin on March 8, and the Miami Open, set for March 19–April 2.
He ultimately withdrew from the Indian Wells tournament.
Florida Gov. Ron DeSantis and the state's two U.S. senators had also called on the Biden administration to allow Djokovic to enter the United States and compete.
In a letter on March 7, DeSantis criticized the Biden administration's "outdated" vaccine mandates for foreign travelers and expressed his disappointment with the rejection of Djokovic's waiver request to play at the Miami Open, calling it "unfair, unscientific, and unacceptable."
The White House didn't budge on its policy when questioned by reporters prior to the Indian Wells tournament on March 8, referring questions about Djokovic's application to the U.S. Centers for Disease Control and Prevention (CDC).
"So, on a question of regarding the vaccination requirement, I would refer you to the CDC," said White House press secretary Karrine Jean-Pierre. "They're the ones who deal with that. It's still in place, and we expect everyone to abide by our country's rule, whether as a participant or a spectator."
"And as for what goes on specifically with the BNP Open, those are—those are questions for them," she continued. "It is a private entity, and so we will let them speak to that. But again, this is something that the CDC speaks to."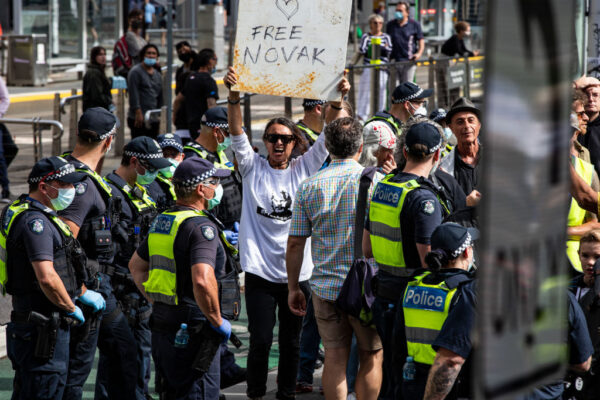 'We Tried'
Djokovic's absence marks the second consecutive Masters event that he has missed due to his vaccination status, after withdrawing from the Indian Wells Masters in California.
"We tried to get Novak Djokovic to be allowed to get an exception, but it wasn't able to happen," Blake said. "We would love to have him. He is our greatest champion."
The United States is expected to lift its policy of barring unvaccinated foreigners from entry into the country when the government ends its COVID-19 emergency declarations on May 11.
Djokovic, who has won the Miami Open six times, has not played at the tournament since 2019. He has said that he would skip Grand Slams rather than receive a COVID-19 shot and missed last year's Australian Open due to his vaccination status.
The Serbian returned to Australia in 2023 after his visa was canceled and he was subsequently deported in January 2022, after he arrived in the country at a time when it was still subject to draconian quarantine regulations and vaccine mandates.
His return was triumphant, scoring his record-tying 22nd Grand Slam at the Australian Open in January.
Blake said the Miami Open had exhausted all options to secure Djokovic's participation and would continue to focus on delivering a high-quality event for fans, expressing disappointment about his absence.
"We exhausted all the options that we know of—that we could handle," Blake said. "Hopefully Novak will be back next year, and hopefully he'll be back for all the later events in the States, including Cincinnati and the U.S. Open."
"I'm a fan of the game, I'm fan of the sport, so I also want to see the best players competing when they're healthy and able to play in the biggest events," he added.