NTD Evening News (March 16): ISIS Can Hit US Interests in 6 Months: Centcom; Bidens Got $1 Million From China-Linked Partner: House GOP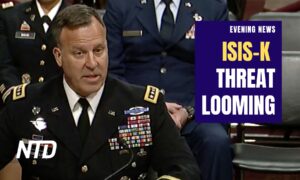 A U.S. commander testified on March 16 that the ISIS group operating in Afghanistan is capable of conducting an external operation against U.S. and Western interests within six months. But he added that it's "much harder for them to be able to do that against the homeland."
The Biden family received over $1 million from a business partner linked to China, according to the House Oversight Committee. The filings show that at least three Biden family members received payments, including Hallie Biden, who's the widow of the president's late son Beau.
A week after the second largest bank collapse in U.S. history, Treasury Secretary Janet Yellen testified before the Senate Finance Committee. The hearing was meant to be about President Joe Biden's budget proposal, but many senators raised concerns over the recent banks collapsing.
Poland pledged that it would send four MiG-29 fighter jets to Ukraine—marking a break from the NATO alliance.