Nurse Fired for Opposing 'Implicit Bias' Training Now Fighting Divisive Ideology in Health Care
Laura Morgan has complied with annual training requirements in the medical field for years, from privacy protocols and compliance regulations to ethics guidelines. But when one session asked her to acknowledge her "racial, unconscious bias," she had to dissent.
"The whole premise is that I must look at patients through a racial instead of a clinical lens," Morgan told The Epoch Times.
Her implicit bias training at Baylor Scott & White Health in Texas asked her to challenge a bias that she and all others who attended were assumed to have within them.
"We do not think about ourselves as being racist or ageist or biased against others," said one of the slides in the presentation (pdf). "But what about the biases we are not aware of?"
It was a preconceived notion Morgan couldn't entertain, she said. The case she made against the training to her supervisor about why she felt it was inappropriate fell flat.
"I don't want you to die on this cross," Morgan said was told.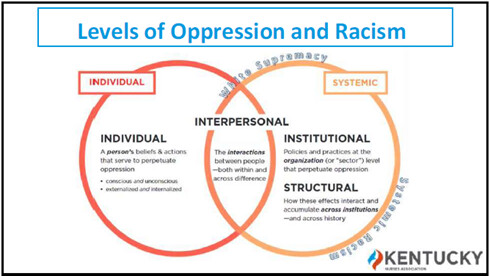 But on Feb. 11, 2022, she was fired from her job as a nursing professional development therapist for refusing to submit to an assertion that she was a racist as a requirement to keep her job.
In an opinion piece she penned in The Wall Street Journal in September, Morgan called the idea of "implicit bias"—a euphemism for racism—a woke assumption based on the idea that society is infested with systematic racism and must be replaced with preferential treatment for nonwhites.
"I'm supposed to teach people how to think," Morgan said of her role as an educator. "However, one of the dangers of this implicit bias training is that it's telling us what to think."
Today, Morgan is the program manager at Do No Harm (DNH), a nonprofit watchdog organization spotlighting woke ideologies that have cropped up in health care, which DNH founder Dr. Stanley Goldfarb says are draining resources from the practice of medicine.
In a statement to The Epoch Times, Baylor Scott & White said it "believes in the importance of, and is committed to Diversity, Equity and Inclusion initiatives; and it believes in providing its team members resources for continual development."
Implicit Bias: Public Health Crisis?
In one of her investigations, Morgan took an implicit-bias training course required for nurses to obtain their licenses in Kentucky.
According to state regulations, nurses must complete a 90-minute course enforcing the message that "implicit bias is a public health crisis," the cure for which is the medical professional's acceptance of his or her own micro-aggressive white supremacy that surfaces through individual beliefs, interpersonal interactions, institutional policies, and the structural intersection of those policies across institutions.
"As an educator, I can say what I saw in that course was among the most racially inflammatory content I've ever seen," Morgan said.
According to the Kentucky Nurses Association (KNA) in its implicit bias curriculum, nurses who aren't aware of their implicit bias "place lives in jeopardy."
"I had to take this training as a condition of employment, but now we have states that are mandating this training as a condition for licensure," Morgan said. "Nurses and physicians who have to take this training to tell me this isn't right. We shouldn't have to be told we are racist, but these types of training tell us we are."
The Epoch Times contacted the Kentucky Nurses Association for comment.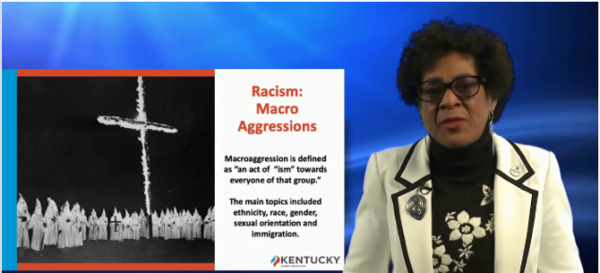 Going Backward
In addition to its watchdog operations, DNH's efforts include supporting lawsuits challenging discriminatory protocols in health care, as well as taking tips on its website from people who wish to report discriminatory practices at their institutions.
"We have filed dozens of complaints with the Office for Civil Rights against universities that are advertising for and giving out scholarships based on discriminatory Title VI violations," she said.
After a complaint was filed against the University of Florida College of Medicine, the school eliminated its requirement that only members of particular races could apply for visiting student scholarships.
"Now, all students can apply," she said.
Morgan doesn't see the problem going away, she said.
The indoctrination has intertwined itself in scholastic programs from kindergarten on up, thus normalizing discriminatory teachings like Marxist critical race theory, Morgan said.
"Nurses my age know what it's like to not have to sit through these sessions to keep their job or get their license," she said. "But these younger people just went through years of elementary, high school, and college, during which they had to be programmed with all of this stuff, so it's normal to them."
This indoctrination has taken health care and society backward, Morgan said.
"We are going to keep going in that direction if these institutions don't abandon these ideologies so that we can get back to the business of why people go to nursing and medical school: to take care of people," she said.