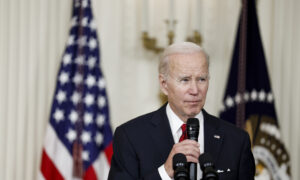 Five Republican members of Congress from New York sent a letter to President Joe Biden on Wednesday, demanding transparency about his administration's "secrecy" involving migrant relocation operations and expressing outrage that these operations have now expanded into rural upstate New York communities.
"We write following reports that your administration is actively settling migrants in Upstate New York communities," the letter opened, referencing a New York Post report from earlier in the month about 35 Colombian migrants who recently showed up in Jamestown, a small town with a population of 28,393 that's located 285 miles northwest of New York City.
In the letter, the lawmakers expressed "deep concern that the influx of large numbers of migrants will overwhelm the local services and infrastructure, as they have done in border communities across the southern United States."
The letter was signed by New York Republican Reps. Claudia Tenney, Elise Stefanik, Michael Lawler, Nick Langworthy, and Marc Molinaro.
"Joe Biden's open border policies have turned every state into a border state," Tenney wrote in a tweet announcing the letter sent to Biden. "Now our Upstate and WNY communities are seeing the impacts. … Joe Biden must SECURE the border now."
And Molinaro, in a statement released on the day the letter was sent, said, "Communities that I represent in Upstate New York are already being impacted by the crisis at our southern border, with illicit drugs steadily flowing and contributing to an uptick in overdose deaths … leaders in our state should be demanding that President Biden secure the border."
"Upstate New York should not be punished for Biden's border crisis," Stefanik told Fox News Digital on Thursday.
In the letter, the lawmakers cited a previous letter sent in January 2022 that Stefanik led, which demanded that the Biden administration "immediately stop transporting illegal migrants from the Southern Border to New York State."
However, the "administration to this day continues to transport these migrants without any transparency to the American people. We urge you to stop this obstinance," the lawmakers wrote.
They went on to demand that Biden "immediately halt" his administration's relocation operations and provide the following information to their offices by Jan. 31:
The number and whereabouts of migrants relocated to New York from the southern border since January 2021
A detailed list of towns and counties to which migrants were sent and where the administration plans to send future migrants
Documentation proving that the executive branch had notified the locations where migrants were sent or an explanation for why it didn't
Details about the process that is currently in place to monitor the status and location of relocated migrants
Whether the administration will commit to notifying their offices and all affected local officials and law enforcement whenever migrants are relocated to the state in the future
"If your administration fails to provide the requested information," the letter states, "we will continue to take every action within our powers as members of Congress to hold your administration accountable, including but not limited to withholding additional federal funding."
"Rather than shifting the burden to the small communities we represent, that are not equipped to handle the influx, the answer is to secure the border," they admonished in the letter. "Already, your current policies have created a humanitarian and national security catastrophe which undermines the rule of law and empowers human traffickers and criminal gangs."
The letter comes six weeks after New York City Mayor Eric Adams declared an Emergency Executive Order in response to the influx of asylum seekers into his city. Fox News reported that number has reached nearly 41,000 and is overwhelming resources there.
"If a city of 8 million people can be overwhelmed by a couple thousand migrants, imagine what a couple hundred can do to overwhelm a small rural community upstate," New York state Sen. George Borello, who represents Jamestown, told the Post.
From NTD News