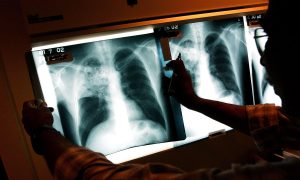 Officials from the San Diego County Health and Human Services Agency Jan. 27 continued to reach out to students and staff at the Boys & Girls Club's National City location and some of its summer campsites to inform them of possible exposure to tuberculosis (TB).
The county health department and club officials are notifying those who had a high risk of exposure. No-cost testing will be provided to individuals with an increased risk of infection.
The period of possible exposure was from May 28 to Nov. 8 last year.
"Symptoms of active TB include persistent cough, fever, night sweats and unexplained weight loss," said Dr. Wilma Wooten, county public health officer. "Most people who become infected after exposure to tuberculosis do not get sick right away. Some who become infected with tuberculosis will become ill at some point in the future, sometimes even years later. Blood tests and skin tests are effective to determine whether someone has been infected."
According to the health department, not everyone infected with TB becomes sick. Those who have been infected, but are not sick, have what is called latent tuberculosis infection. Most people who are exposed to TB do not become infected.
According to the Centers for Disease Control and Prevention, TB is spread when someone who is sick with the disease coughs, speaks, laughs, sings, or sneezes. Anyone near the sick person can breathe the TB germs into their lungs.
People who are infected and people at high risk of becoming ill quickly after an infection, such as those with an immuno-compromising condition, should discuss treatments with a medical provider, as antibiotics can prevent people with TB from becoming sick.
The number of people diagnosed with active TB in San Diego County has decreased since the early 1990s and has stabilized in recent years. There were 192 in 2020 and 201 people reported with the active disease in 2021. Preliminary data show 208 people were reported to have active TB in 2022.
An estimated 175,000 people in San Diego County have latent TB infections and are at risk for developing active TB without preventive treatment, health officials said.