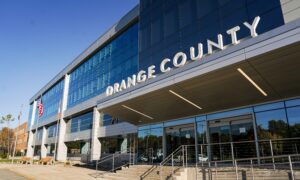 A joint venture has been proposed to power nearly 500,000 New York homes with wind turbines made in local factories, including a new steelmaking plant in Orange County. 
Community Offshore Wind, which was formed by RWE and National Grid to develop offshore wind in the Northeast, submitted the above plan to the state on Jan. 25. 
The proposal also includes new blade and nacelle factories in unspecified parts of the state and a new port facility in Staten Island for the staging and assembly of turbines. 
A nacelle is the part of a turbine that helps convert wind power into electricity.  
Orange is the only county in the Hudson Valley region to be included in the proposal. 
County Executive Steve Neuhaus said in a press release, "Orange County is ripe for opportunity to lift up communities, and Community Offshore Wind recognizes that. I support [them] and their intention to create jobs and spread economic benefits throughout the state, particularly in Orange County." 
"I support the project's plan to localize secondary steel fabrication in Orange County," Orange County Partnership President Maureen Halahan said in a press release, "We are in the business of helping businesses in the area succeed and will work with Community Offshore Wind to ensure the steel fabrication facility thrives." 
In total, the proposed supply chain will create about 4,600 jobs in the state through 2033, with priorities given to low-income communities, union workers, and local companies. 
Aside from creating jobs, the plan also provides $100 million in workforce programs to low-income communities and $10 million in childcare services to workers in the offshore wind industry. 
The proposal was submitted as a bid for the state's third round of solicitation for offshore wind projects to power 1.5 million homes. 
Winning bids will be announced in early spring. 
New York has five offshore wind projects already in development, which are projected to produce enough electricity for over 2 million homes. 
The state is mandated to get 70 percent of its electricity from renewable energy by 2030. 
RWE and National Grid formed the joint venture last March after winning one of the largest offshore seabed leases from the state with a bid of $1.1 billion. 
The awarded seabed totals 126,000 acres on an island not far from Long Island, with enough potential to power over a million homes. 
RWE is a Germany-based global renewable energy company, and National Grid is an England-based electricity and gas utility that serves parts of New York and Massachusetts.