Ohio TV Repair Shop Switching Off After 75 Years
A family-owned television repair shop that has been a regular haunt for customers in Dayton, Ohio, will soon will close its doors for the last time in 75 years.
Situated in the city's old West Side neighborhood, the shop even attracts people from out of state.
Its owner, Joe Spanel, has worked for Dayton Electronics at 112 North Broadway "since he was a kid."
His father Pete Spanel opened the TV and electronics repair shop in 1946, but times have well and truly changed and now Jeff Spanel plans to close the business in the next few weeks.
He hopes to sell the neighboring lots he owns and likely work a part-time job in his "retirement years."
The reason?
As television parts such as circuit boards, vacuum tubes, and even glass screens, have become obsolete or no longer made in foreign countries, TVs have been harder—if not impossible— to work on, Spanel said.
TV repair shops that fix older models, are few and far between.
Like the lonely Maytag repairman on an island, Spanel, 65, said, "I'm the last of the last, at least here in the Dayton area.
"For the last 20-30 years, when other TV repair shops closed or the owner died, I would buy out all the parts they had left. Now, those shops are all gone.
"When people tell me they're buying a new TV, I advise them to get the extended warranty."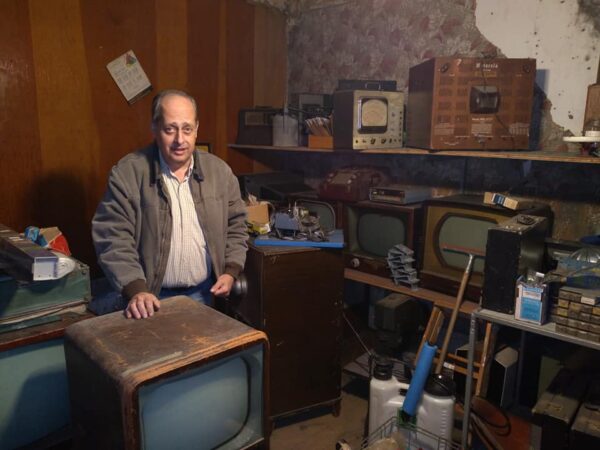 A lot of the newer TVs people now bring in to have fixed are just out of warranty and there's just nothing he can do with them, Spanel said.
"Television repair shops going out of business is not a trend," Spanel added.
"It's over. When people call in from Kentucky, or wherever, I just have to tell them I can't fix it because I can't get the parts.
"Television repair is not a dying art; it's dead.
"Dayton used to be the town of inventors and factories, but not anymore. Everything has changed, the whole world has changed."
Dayton Electronics is the longest-running business on Dayton's West Side. The neighborhood once was the home of the Wright Brothers, aviation pioneers Orville and Wilbur Wright, African-American poet Paul Laurence Dunbar, and Mike-sells' Potato Chips, the longest-running potato chip company in the United States.
In fact, the Wright Brothers Aeronautical Laboratory was just one block south of Spanel's shop, and Spanel said his Italian immigrant grandfather, Giuseppe Spanel, used to take Orville Wright a newspaper from his grocery store that occupied half of the building.
The neighborhood also once was crowded with Hungarian immigrants and businesses, many of whom patronized Spanel's shop, as did numerous Dayton policeman who worked in the precinct a block away and often frequented the shop.
Even though Spanel's business went untouched through Dayton's racial riots of the 1960s, Dayton's West Side never recovered. "After the riots, just about everyone left."
Spanel said he used to pride himself on being able to troubleshoot a TV to component level, where he could look at the modules that provided video, audio and the power supply.
"Now, everything has been integrated into one small circuit board or semi-conductors," Spanel said. They don't make separate parts anymore, he opined.
"Most of the TVs now are made in China, Malaysia, Korea and Vietnam. When you turn them on, they look better than anything ever you've ever seen, but they don't last very long."
Although there's a handful of television sets assembled in the United States, there are no more TVs completely made in the U.S. as parts are manufactured overseas, Spanel said.
"We used to have Zenith, Magnavox, RCA Victors, Motorolas and even Admirals made here in the United States–but they're not around anymore.
"If they are, they're in name only, and owned by a foreign company who has the name under license."
In the early 1950s, more than 90 American companies made television sets, but after nearly 90 years in business, Illinois-based Zenith Electronics—the last maker of the American-made "big box" TVs—sold out to a South Korean company in 1995.
At least one loyal customer came into the shop one brisk November day the week before Thanksgiving, an analog man of sorts,
Pete Wilson, who lives in the neighborhood and said he has brought TVs, radios and stereos into Spanel's shop for 50 years, brought in a Carousel CD player that needed be fixed.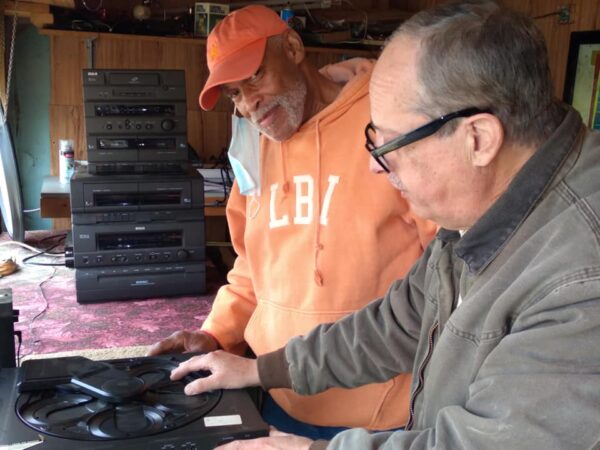 Wilson said it wasn't ejecting, or indexing, and Spanel said he would look at it.
"The lens probably just needs cleaned," Spanel said. "I'll see what I can do."
Wilson said he knows whatever he brings into Spanel, it will be "fixed right."
"I know his quality of work," Wilson said. "He's honest and just doesn't take your money. You just can't go anywhere and get the personal service you get here."
For example, Wilson said he had to order a carburetor for a snowblower online and he was mailed the wrong one.
"Now, I just have to wait," Wilson said.
Long gone are the days when Spanel had 30 to 40 TVs lined up for repair on the workbenches inside his family's 22-room building.
Gone, too, are the days when Spanel and his father repaired the TVs at all of the hospitals in Dayton—Good Samaritan, Miami Valley, St. Elizabeth, Grandview, and, more recently, Dayton Heart Hospital.
The shop has deep roots in the Spanel family, which now is in its fifth generation in Dayton's Miami Valley.
Giuseppe Spanel, emigrated to the U.S. with his wife, Maria, from Coutra, Italy, in 1909. They first settled in West Virginia, where Giuseppe worked in the coal mines and later for the railroad. He moved to Dayton in 1919 to get a better job.
Giuseppe Spanel, who had worked for NCR in the Plating Department for 27 years, opened a grocery store in one half of the building. His son, Pete, left his job in the design and engineering department at NCR and opened AAA Radio and TV Services in 1946 in the other half of the structure. He repaired electronics such as radios, toasters, appliances, and TVs.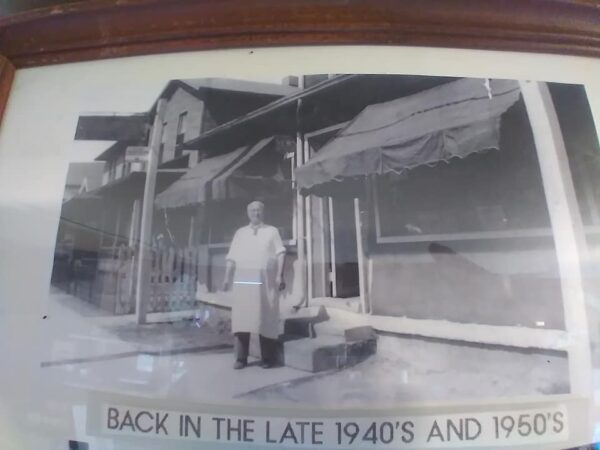 But, Giuseppe closed the grocery store in 1955, a year before Joe was born, because of supermarkets opening.
"As a kid, I just fell in love with the shop," Joe Spanel said. "I was always in there. I was welcome in all the stores and businesses in the neighborhood because everyone knew my Dad."
Spanel recalled the first TV he fixed, when he was about 12 or 13 years old, in the mid-1960s.
He believes it was a Crosley model, sitting discarded on a shelf in a back room of his Dad's shop.
"I asked my Dad what he was going to do with it," Spanel recalled. "He said, 'That TV doesn't work. I'm going to throw it away.'"
Spanel said he knew that wasn't true, because his Dad never threw anything away.
"I asked him if I could keep it if I fixed it, and he said, 'Sure, go ahead.' I worked on it and fixed it and put it in my bedroom."
After graduating from Chaminade-Julienne High School in Dayton in 1974, Spanel furthered his knowledge in the industry by taking classes at the National Institute of Radio and later took classes in fundamentals of radio at Sincalir Community College, both in Dayton.
Joe Spanel left his full-time job selling shoes for Concord City stores after 15 years in 1993 to work full-time in his Dad's shop.
The Spanelsalso repaired TVs in most, if not all, of the nearby neighborhood bars and restaurants that crowded the area when Dayton's factories were in full swing. Now, all of those are gone, too.
Joe and his wife, Linda, have four children—Andrea, Maria, Pete, and Teresa, all of whom graduated from the University of Dayton. They also have nine grandchildren.
Joe's mother, Claudette, lives in a nursing home.
Spanel has a contemporary who understands the vanishing industry.
He is Neil Leipziger who runs Mort's TV, in Levittown, Pennsylvania, with his brother, Mike.
The shop has been in business for 65 years and the pair are sons of the original owner Mort Leipziger, who died 14 years ago.
Neil Leipziger's sentiments echoed Spanel's.
"Anyone who is still in only the TV repair business has a bleak future," he said. "We're not able to fix just any TV anymore. We also repair audio equipment such as stereos and microwave ovens."
Leipziger said that Mort's used to repair between 250 to 350 TVs a month, as recent as 15 years ago. Most of it was third-party contract work on TVs under warranty. Now, the number of TVs that go through Mort's for repair is about 20 a month.
Mort's stopped doing in-home TV repairs during the COVID-19 pandemic because he said it was "unproductive"—they were unable to fix them due to lack of parts.
"A goal we used to have was to fix a TV in two trips," Leipziger said. "Our first trip, we would evaluate the TV to see what was wrong. Our second trip was to take back the part we ordered, install it and hope it worked OK.
"If anyone told me they were going to go into the TV repair business, I'd tell them they better be ready to diversify," Leipziger said.
Signaling that closing is drawing near, Spanel said he recently sold about 5,000 vacuum tubes to a guy from Michigan who drove to Dayton with a moving truck and loaded them up. Spanel said he also is taking down the shop's website, www.TVJoeJoe.com.
With a housing development planned for the nearby neighborhood, Spanel hopes to sell the 11 acres of properties he owns north of West Third Street, the main artery through the city's long-deteriorated West Side.
After Pete Spanel died in 2012 at age 87, a lot of the soul and sweetness of Dayton Electronics died with him.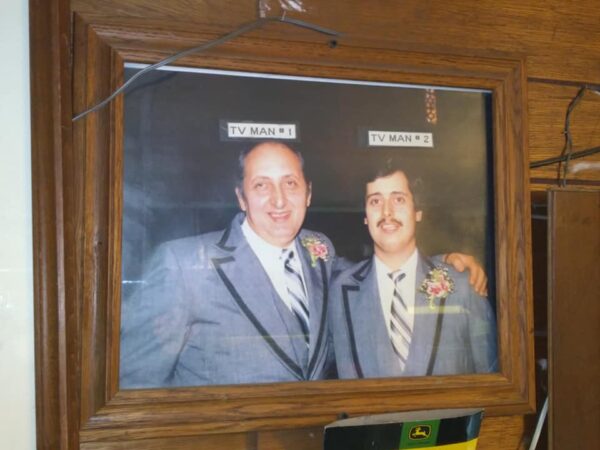 For now, Spanel still goes into the shop with the worn wooden floor every day to take calls and help any walk-in customers. To pass the time, he watches old TV shows on the MeTV cable station from a newer model Vizio television set.
Joe Spanel said his main takeaway in the business is that he loved his job.
"We were always there to help people. I never cared about the money. Today, there's guys out there who know that a TV can't be fixed, but they still make a living doing service calls. They go out to look around on a TV, and just tell the person, 'we can't fix it,' and charge them $60-70. I'm not going to do that."
Listening to three calls coming into Dayton Electronics within hours in late November 2021, it was easy to tell Spanel no longer was able to help prospective customers.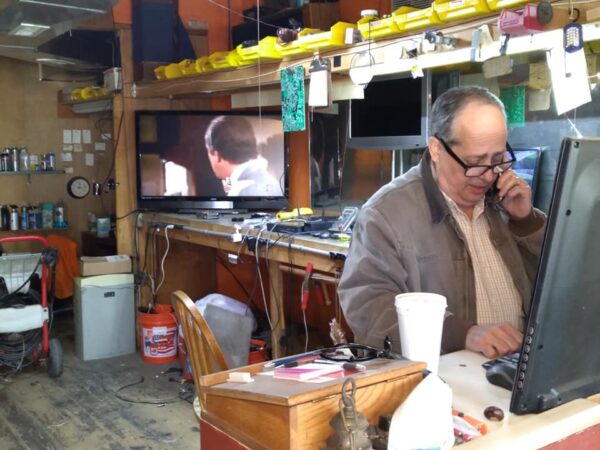 "I can't repair a screen anymore," Spanel told one caller. "You just can't get them. A cracked screen is like dropping a glass of water. The glass breaks and you can't put it back together."
Another caller, whose home was hit with a lightning strike, had no luck.
"There's no way I can fix that," Spanel said. "I haven't been able to fix a rear projector on a TV in 10 years. "
Spanel just hung up the phone, shaking his head.
Then, getting a little philosophical, Spanel said, "I'm the Ronald Reagan of TV repairmen. Reagan, who used to be a Democrat before he became a Republican, said that he didn't leave the Democratic Party, it left him."
"I didn't leave the TV repair business; it left me," Spanel said. "The business is gone, it's just gone."