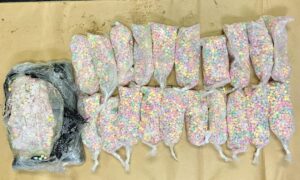 Orange County Sheriff's officials announced Jan. 26 that "rainbow" fentanyl was found for the first time in the department's jurisdiction.
Deputies confiscated 14,000 multi-colored fentanyl pills along with 2 kilograms of it in powder form and 10 pounds of methamphetamine from two locations in north Orange County, authorities said.
The bust marks the first time, officials said, it has encountered "rainbow" fentanyl—a drug the U.S. Drug Enforcement Administration (DEA) announced in August 2022 may be used by drug cartels to target children.
"Rainbow fentanyl—fentanyl pills and powder that come in a variety of bright colors, shapes, and sizes—is a deliberate effort by drug traffickers to drive addiction amongst kids and young adults," Anne Milgram, with the DEA, said in a statement at the time.
The seizure comes after an "extensive investigation" into a suspect believed to be involved in the distribution of large amounts of narcotics, according to the sheriff's department.
Authorities said no additional information would be released on the seizure at this time, as the investigation is ongoing.
In another recent instance, Costa Mesa police ultimately recovered 30,000 such pills Jan. 24 after a late afternoon traffic stop evolved into a slow-speed police chase ending in Newport Beach, authorities said.
Three people were in the car during the incident, but only two—Oscar Mercado-Arriaga, 49, of South Gate and Natalie Contreras, 37, of Gardena—were arrested and booked into the Orange County Jail, according to Roxi Fyad, a Costa Mesa police spokesperson.
The third person was found to be uninvolved in the incident, and their information was not available, she said.
During the chase, three bags of the narcotics were allegedly thrown out the window, which were recovered, according to authorities.
Fentanyl is a synthetic opioid that is 50 times more potent than heroin and 100 times more than morphine.
The DEA announced in December a record-breaking seizure of more than 379 million deadly doses of fentanyl throughout the country in 2022 and recently announced 6 out of 10 fake prescription pills analyzed, also in 2022, contained a potentially lethal dose of the drug.
In California, fentanyl seizures by authorities increased by nearly 600 percent last year, according to the office of Gov. Gavin Newsom.