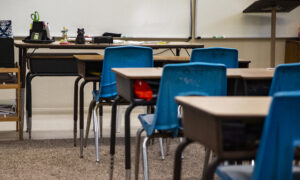 After abruptly firing its superintendent two weeks ago, the Orange Unified Board of Education approved a contract for an interim superintendent, Edward Velasquez, during a board meeting Jan. 19.
Velasquez, an educator who has served as interim superintendent for multiple school districts in San Diego County, left retirement to step into the vacant role at the request of board president Rick Ledesma.
The new superintendent will be paid a daily rate of $1,350 and will work four to five days per week, according to his contract (pdf).
The agreement does not cover medical expenses or provide sick leave or vacation days.
The board voted to appoint Velasquez during a Jan. 5 emergency meeting called just 24 hours in advance by Ledesma.
At the same meeting, it voted 4–3 to fire Superintendent Gunn Marie Hansen and Assistant Superintendent Cathleen Corella after meeting in a closed session.
Ledesma, along with trustees John Ortega, Angie Rumsey, and Madison Miner voted to terminate Hansen and Corella while Andrea Yamasaki, Kris Erickson, and Ana Page dissented.
Though they gave no reason for the superintendent's termination, they directed Velasquez in his contract to "initiate a review or audit of the district's instructional and educational program" in his first 30 days.
In November, three incumbents—Ledesma, Erickson, and Yamasaki—won re-election to the board, while Miner beat out incumbent Kathy Moffat.
Miner's election flipped the board majority conservative, and both she and Ledesma promised during their campaigns they would advocate for parental rights and oppose lessons that contained social-emotional learning and critical race theory.
Some parents said during public comment that the board's decision reflected the values of those who elected them.
"I'm proud to see that they're making these very difficult decisions to make in the face of all this opposition," one parent said.
Another speaker said the board was within its rights to appoint a new superintendent.
"There are increasing concerns across the nation that these political 'social-emotional programs' are indoctrination," the speaker said. "This majority is also expressing indoctrination concerns and is entitled to have a superintendent they can trust to address these concerns."
Other speakers, however, said they were frustrated with the board's handling of the situation, saying it had caused confusion and upset.
"[The superintendent] was eliminated for reasons that are unclear," one parent said. "We should have [had] due process … there is undue chaos. There are so many people here today and they are here to convince you to be careful with how you proceed."
Velasquez has said he was aware of some of the community's apprehension.
"Major change is always a challenge, and I am aware of the concerns that have been expressed," he said in a statement Jan. 13. "I want to assure you that I have every intention to serve Orange Unified's students, teachers, and staff by keeping the district moving forward while the Board searches for [the] next superintendent."