Pacific Surfliner Trains to Reopen in Orange County, San Diego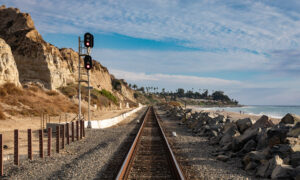 The Metrolink and Amtrak Pacific Surfliner will reopen passenger travel to San Diego for weekends, starting Feb. 4. The railways have been closed since late September after heavy rain made conditions unsafe for passenger travel, according to Orange County transportation officials.
Metrolink service lines between Oceanside and Laguna Niguel/Mission Viejo, and the Amtrak Pacific Surfliner train that runs between Irvine and San Diego have been suspended since Sept. 30. The impacted rail corridor sees more than 150 passengers and 70 freight trains daily, according to officials.
The Orange County Transportation Authority announced on Jan. 23 that emergency construction efforts have stabilized the tracks in south San Clemente, after heavy rains caused tracks to move as much as 28 inches between September 2021 and 2022.
Over 100 ground anchors, in lengths of more than 130 feet, have been installed into the bedrock along the railway in San Clemente and stopped the movement according to the officials.
Transportation Authority member and Orange County Board of Supervisor Katrina Foley said in a statement more needs to be done to prevent future occurrences.
"Now that the railroad tracks are deemed safe for passenger service, it is time we seriously consider investing in science-based solutions to prevent these issues from inevitably happening again," Foley stated.
She said long-term solutions need to be discussed, with the recent work to the tracks only temporarily sustainable.
"Past railroad stabilization efforts have proven building ground anchors and depending on sandbags and rip rap are at best temporary fixes. Long-term solutions require leadership to implement them," she said.
Foley said as a county supervisor and member of the transportation authority, she will look for answers by working with industry experts and government officials.
Construction of the tracks will continue during weekdays and is expected to be finished by March, when weekday services will be restored, according to officials.
Metrolink and Amtrak passengers are asked to check pacificsurfliner.com/alerts and metrolinktrains.com for updates.