Parents of Boy Who Fell to His Death on Free-Fall Ride Hire Attorneys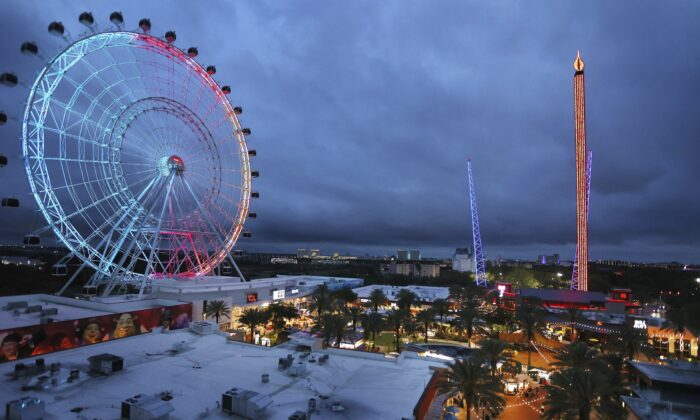 ICON Park attractions, The Wheel, left, Orlando SlingShot, middle, and Orlando FreeFall, right, are shown in Orlando, Fla. on March 24, 2022. (Stephen M. Dowell/Orlando Sentinel via AP)
Authorities and family members identified the 14-year-old boy who fell to his death at Floria free-fall ride was identified as Tyre Sampson.
The teen, from St. Louis, Missouri, died Thursday night after he fell from the FreeFall drop ride at ICON Park in Orlando.
Yarnell Sampson said Tyre, who weighed 340 pounds and was 6 feet, 5 inches tall, was visiting Orlando via a football program.
"He was panicking when he was going up," Sampson told Fox35. "When the ride took off, that's when he was feeling uncomfortable. He was like, 'What's going on?' That's when he started freaking out, and he was explaining to his friend next to him, 'I don't know man. If I don't make it down, please tell my Mom and Daddy I love them.' For him to say something like that, he must have felt something."
He continued to say: "Fourteen-year-old young man. He was an honor roll student. The young man had a bright future."
The teen's family has now hired lawyers.
"This family is shocked and heartbroken at the loss of their son," attorney Ben Crump, who represented George Floyd's family, said in a statement. "This young man was the kind of son every parent hopes for – an honor roll student, an aspiring athlete, and a kind-hearted person who cared about others. Needless to say, his family is absolutely devastated."
Investigators on Saturday continued to examine what happened Thursday night when Sampson dropped out of his seat from a 430-foot, free-fall amusement park ride that is taller than the Statue of Liberty along a busy street in the heart of Orlando's tourist district not far from Disney World.
The ride takes patrons up to that height, tilts so they face the ground for a moment or two, and then plummets toward the ground at speeds of 75 mph (about 121 kph) or more.
The Associated Press contributed to this report