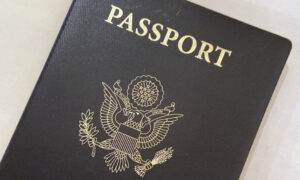 Wait times are up for the third time this year as the standard processing time for passport applications will now be 10 to 13 weeks, the State Department announced on March 24.
The latest uptick is due to surging international travel demand that has created an unprecedented number of passport applications and renewals.
Even expedited processing, which costs an additional $60, is currently averaging seven to nine weeks. The State Department has an online fee calculator to help travelers figure out how much they will pay for passport renewal or a new application.
The processing times apply to new applications on March 24 or later. These processing times do not include mailing times. The State Department warns that mail delivery can take up to two weeks.
The actual mailing times "may add several weeks on to the door-to-door time it takes to receive your passport." Passport applicants can choose to pay a one-to-two-day delivery fee, at the cost of $19.53, to receive expedited delivery of a passport issued from a processing center.
High Demand
According to officials, the latest notice reflects the rise and fall of seasonal demand. The State Department reported receiving a higher volume of passport applications this year, outpacing the records set by last year's volume by more than 30 percent.
"By adjusting our processing times, we are giving U.S. citizens more precise information about how long it may take them to receive a new passport," the State Department said.
"We continue to urge U.S. citizens to check their passport expiration date and renew now if they are planning international travel this year."
According to U.S. Secretary of State Antony Blinken, CNN reported that the State Department receives 500,000 passport applications per week.
After testing it for about a year, the agency temporarily suspended its new online passport renewal program on Feb. 7. Its official launch is targeted for later in 2023.
Once fully operational, Blinken expects that "65% of renewal customers for passports will be able to do so online."
Last year, the State Department processed a record 21,995,760 passports, more than ever since tallying began in 1974.
Travel in 2023
Renewing a U.S. passport can only be done in person or by mail. U.S. residents can check their passport renewal or application status here.
As travel rebounds after the pandemic, officials encourage Americans to check their passport expiration date before making plans for international travel.
Many countries require a passport to be valid at least six months before travelers' planned departure date. See which countries have such requirements via the State Department's Country Information page.
Those with urgent international travel plans within 14 calendar days or who need a foreign visa within 28 calendar days can call 1-877-487-2778 to make an appointment. However, some restrictions apply, according to the State Department. Travelers may also qualify for life-or-death emergency appointments if they have to travel internationally in three business days.
The Bureau also has a dedicated webpage with available resources and agency contact information to assist applicants who need their passports delivered urgently.
Additionally, the State Department encourages Americans traveling outside the United States to enroll in the Smart Traveler Enrollment Program, which allows people to receive important messages, advisories, and alerts about the destination they're traveling to.